Q ~ Can you tell us a bit about yourself?
I'm 29, Irish, living in Dublin. I wanted to be a writer since I was a kid (though, of course, I also wouldn't have minded a stint as Batman). My favourite colour is blue. My favourite musician is Michael Jackson. Recreationally, I enjoy playing computer games and miniatures board games with friends.
Q ~ If you could have lunch with one person, dead, alive, or imaginary, who would it be and why?
Probably S.L. MacGregor Mathers, founder of an esoteric society that W.B. Yeats was a member of. There are a lot of unanswered questions there historically which I think Mathers alone could answer.
Q ~ What is your favourite electronic gadget?
Definitely my PC. I'm a bit old-school that way, as I prefer a desktop. As much as smartphones, tablets, and laptops are handy for their portability, they simply can't beat a good old-fashioned desktop PC, especially something with a high spec. When I do anything, work or play, I don't want to be held back by slow internet or processing speeds, or small screens and keyboards.
Q ~ How do you think people perceive authors?
I think there are a variety of author stereotypes out there: the coffee shop writer, the recluse, the starving author. Others may have the idea that it's all about bursts of creativity, but the reality for any successful author is that it's hard work, and requires forcing oneself to sit down and write.
Q ~ What is your favorite quote, by whom, and why?
Oh dear, that's like choosing your favourite toy. Instead of a favourite, here are a few that stood out to me lately, and are apt to the topic of writing. I don't think I need to say why, as the why is in the words themselves.
"Writers are the exorcists of their own demons." ― Mario Vargas Llosa
"One should use common words to say uncommon things." ― Arthur Schopenhauer
"A story was a form of telepathy. By means of inking symbols onto a page, she was able to send thoughts and feelings from her mind to her reader's. It was a magical process, so commonplace that no one stopped to wonder at it." ― Ian McEwan, Atonement
Q ~ Ebooks, paperbacks, or hardcovers?
Paperbacks, then ebooks, then hardbacks. When I buy books, I buy them to read, and I find hardbacks are more awkward for that. I'm a bit old-fashioned, so paperbacks still retain their charm for me, but I do have a Kindle, and I can certainly see the many benefits that ebooks offer, both in portability, space-saving, price, and features (such as an easy-access dictionary). I expect over time I'll move more to ebooks, as I think they encourage reading.
Q ~ What is your favourite genre to read? To write?
Fantasy is definitely my favourite in both regards, but that can be a rather wide range. Both of my series are technically fantasy, but they are very different in style and story. I enjoy tales about other worlds, so speculative fiction (include science-fiction) really appeal to me. I also greatly enjoy mythology, and I see fantasy as being the modern heir to it.
Q ~ Are there any new Authors that have grasped your interest recently and why?
There a few noteworthy new authors I've encountered recently, including Robert Jackson Bennett and Brian McClellan, who have crafted believable worlds, interesting characters, and intriguing plots.
Q ~ How did you begin writing? Was there a single catalyst or a series of events?
My mother has a school report card from when I was around 5 or 6 that highlighted my creative phrasing of sentences, so I think there was a very early love of words at play. I've always enjoyed books, and I started writing my first novel around age 11. For my 12th birthday, my parents got me a PC, and I specifically requested one for writing, not for gaming (which, in retrospect, is quite unusual for a child).
Q ~ Do you have any writing rituals that you follow? What is your go-to snack while writing?
There are no writing rituals, per se. I do have a way of organising my writing, keeping each chapter in a separate file (which helps with finding things, but also gives a more regular sense of completion, which helps productivity). For snacks, my go-to is what we in Ireland call crisps or snacks (potato chips to others). I'm definitely more of a savoury than sweet kind of guy.
Q ~ When you write, do you try to reach a specific word count or simply write until you are done?
I set myself word count targets, which vary depending on my deadline. Sometimes I don't meet them, and other times I go well over. I keep a text document with dates and word counts, and work towards my target, adjusting up or down as needed. Goal-setting and deadlines are important for getting things done.
Q ~ Do you prefer to write in a small town or big city setting? Why?
If you mean the setting for my characters, I like big concepts, but am happy to explore smaller, much more personal issues inside of that. I like to have a lot going on at once, the big and the small, so I can easily have big cities and small towns coexisting equally in my stories, each of them being equally enjoyable to write thanks to the variety, as well as their fitting into a larger narrative.
Q ~ Can you tell us a bit about your latest release and what it means to you?
Landquaker
, Book 4 of the
Great Iron War
series, is the latest book I've released, and it's where I've gotten to show the reader more about the Regime, something that some readers have been requesting from the start. It's also where I get to up the ante a lot, as I'm now in the second half of the series, and we're moving further east towards the Regime's strongholds. At this stage, being my seventh novel, I've kind of gotten used to the process, so I don't dwell too much on the release, but get working straightaway on the next one.
Q ~ Can you give us a bit of background information on the novel and how you it came about?
When I started this series, I had an overarching idea in mind (the concept of contraceptive amulets), and a style and setting I wanted to work with (steampunk). When I settled on the idea of each book centring on a vehicle, the name of which would also be the theme of the story, it did not take long before I wanted to include a railway gun, one of the lesser known sentinels of WW2, as a focal point. From there, the story developed naturally.
Q ~ What is your favourite part or scene in the novel?
I think I'll need to put SPOILER ALERT here, just in case. I quite like the chapter The Carriage Smog. It was not something I had originally planned to do, which meant it was as exciting for me to write as it is the reader to read. Because the characters can't see anything, it was a challenge to convey movement through the vehicle. I also liked the suspense and sense of time running out, and enjoyed seeing Jacob being a little heroic once again.
Q ~ What is your process for choosing character names?
When I was a kid I used to take common words and reverse them to make character names, but over time I started looking to foreign languages (Greek and Hebrew, for example), and then began forming names based on my own invented languages. Other times I simply think of something off the top of my head that fits with a character.
Q ~ You've written other works as well. For you, do they compare to one another? Do you have a favourite or do they all stand out in their own way?
There is actually a link between all of my fiction, with the
Memory Magus
stories bridging the two worlds of Iraldas and Altadas together. This is also explored further in some of the Great Iron War novels.
Aside from that, however, I think they are very different works.
The Children of Telm
is largely a language-based story. It is stylistically dependent on language (i.e. the archaic tone), includes numerous poems, a poet character, several invented languages, and a story that revolves around the use of language as a means of power (the utterance of the Last Words of Telm).
The
Great Iron War
, on the other hand, is an entirely different tale, focusing more on the characters and the action. It's grittier, so the language is less at the forefront, though, of course, I still like to play around with words a bit here and there, which is more of a personal style thing.
I like both for different reasons, but the
Great Iron War
is definitely more commercial.
Q ~ Do you have anything in the works at the moment? Care to give us a hint about it?
I'm currently working on
Worldwaker
, Book 5 of the
Great Iron War
series, which is due to release at the end of August. I don't want to spoil anything for those who haven't read the previous books, but there are some big payoffs in this one from the seeds I planted in earlier books, and the story is ramping up towards the finale in Book 6.
I've also been working with the cover designer on the artwork for some standalone prequel novels that will follow once the main series is complete. I won't say anything about them yet, but the astute reader will find I've already hinted at them in the previous novels.
Q ~ If you could give aspiring authors one piece of advice, what would it be?
Never give up. There will be toils and challenges, and disappointing days, but the truly successful writers have kept going, through thick and thin. Keep writing, and keep reading, and keep trudging forward. Perseverance is the key to many locks.
About the author:
Dean F. Wilson was born in Dublin, Ireland in 1987. He started writing at age 11, when he began his first (unpublished) novel, entitled The Power Source. He won a TAP Educational Award from Trinity College Dublin for an early draft of The Call of Agon (then called Protos Mythos) in 2001.
He is the author of the Children of Telm epic fantasy trilogy and the Great Iron War steampunk series.
Dean also works as a journalist, primarily in the field of technology. He has written for TechEye, Thinq, V3, VR-Zone, ITProPortal, TechRadar Pro, and The Inquirer.
Find out more about Dean F. Wilson at
www.deanfwilson.com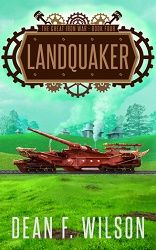 Title:
Landquaker
Series:
The Great Iron War #4
Author:
Dean F. Wilson
Publication Date:
April 17/16 by Dioscuri Press
Length:
258pgs
Genre:
steampunk dystopian
My Rating: ★★★★★
Book Links:
my review
-
Goodreads
–
Amazon(US)
–
Amazon(CA)
-
B&N
Back Cover Blurb:
The Resistance has barely nursed its wounds from the recapture of Blackout, and it is now looking to another, tougher target: the massive steam-powered railway gun known as the Landquaker. They call the vast railroad the Iron Wall, and that mounted barrel is its only sentry. It does not need another.
Blackout was a sitting duck, but the Landquaker is a moving target, and not only one that shoots back, but one that shoots first. The Resistance turns to old allies and new friends, from the land-loving tribes to the land-roving biker gangs. It will need every soldier it can muster.
The Landquaker was designed with a singular purpose: a monstrous gun to hold back a multitude of monsters. Except this time the multitude mans that weapon, and in its hands the land is not the only thing that will quake.