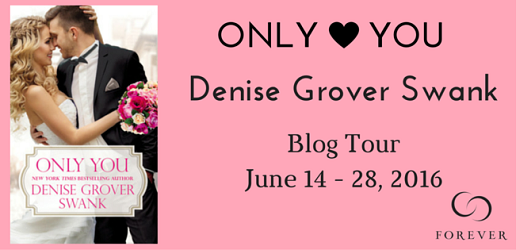 Top 5 scenes from ONLY YOU by Denise Grover Swank
When Kevin and Holly meet on his front porch—she's so incredibly awkward that she looks adorable
When Kevin's sister Megan and her friend Libby confront Kevin before Megan's baby shower—Megan and Libby are best friends from The Wedding Pact series (The Substitute: Megan, The Gambler: Libby)—and it was SO FUN to write them together again. Especially giving Kevin a hard time.
Kevin's blind date from hell—the holistic food scene—I cracked up writing it.
When Holly sees Kevin holding his inherited kitten and decides she doesn't want to fight her feelings for him. I loved seeing her take control of the situation.
When Holly takes Kevin to see her grandmother in the nursing home. He was so wonderful with her, he totally won Holly's heart.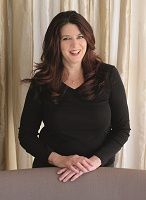 About the author:
New York Times
and
USA Today
bestselling author Denise Grover Swank was born in Kansas City, Missouri and lived in the area until she was nineteen. Then she became a nomadic gypsy, living in five cities, four states and ten houses over the course of ten years before she moved back to her roots. She speaks English and smattering of Spanish and Chinese, which she learned through an intensive Nick Jr. immersion period. Her hobbies include witty (in her own mind) Facebook comments and dancing in her kitchen with her children. (Quite badly if you believe her offspring.) Hidden talents include the gift of justification and the ability to drink massive amounts of caffeine and still fall asleep within two minutes. Her lack of the sense of smell allows her to perform many unspeakable tasks. She has six children and hasn't lost her sanity. Or so she leads you to believe.
Connect with the author:
Website
-
Facebook
-
Twitter
-
Goodreads
-
Pinterest
-
Instagram
-
Snapchat
Follow Forever:
Website
-
Facebook
-
Twitter
-
Instagram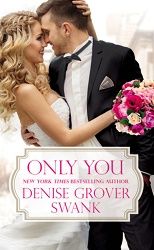 Title:
Only You
Series:
Bachelor Brotherhood #1
Author:
Denise Grover Swank
Publication Date:
June 14/16 by Forever
Length:
368pgs
Genre:
contemporary romance
Shelf:
review
My Rating: ★★★★ Book Links:
Goodreads
–
Amazon(US)
–
Amazon(CA)
-
B&N
-
Kobo
-
Indigo
-
Google Play

Back Cover Blurb:
The first book in a spin-off from Denise Grover Swank's New York Times bestselling Wedding Pact series (The Wedding Pact, The Player, The Gambler, The Valentine)

"Warm and funny, the first book in the Bachelor Brotherhood series reads like a great Hollywood rom-com." –iBooks Best Books of June
Never say never…
Romance isn't an option for Holly Greenwood. With her wedding planner career on the line she needs to stay focused, and that means pleasing her demanding boss, not getting distracted by her mind-alteringly hot neighbor…
Ex-Marine Kevin Vandemeer craves normalcy. Instead, he has a broken-down old house in need of a match and some gasoline, a meddling family, and the uncanny ability to attract the world's craziest women. At least that last one he can fix: he and his buddies have made a pact to swear off women, and this includes his sweetly sexy new neighbor.
After one hot night that looks a whole lot like a disaster in the light of day, Kevin and Holly are about to learn that true love doesn't play by the rules…
Kevin wasn't sure why he was surprised Holly was here. She was a wedding planner, and from what he'd seen so far, she was a damn good one.
He'd been on his way out of the room, needing a breather from the noise and the chaos of the reception when he'd seen her at the table. He hadn't planned on asking her to dance—hell, he hated to dance—but he'd been desperate for a reason to talk to her.
When he sat back down at the table, Tyler wore a smirk. "Crashed and burned, huh? I thought you were going to the bathroom to take a piss."
"I was. I just happened to run into a friend."
"Run into a friend, my ass. I thought we'd sworn off women. I've held up my end of the bachelor brotherhood. And let me add that I had no idea my balls could turn this blue."
"She's a friend," Kevin said, trying not to sound irritated and feed any more fuel to the fire.
"She's his neighbor," Matt said, taking a sip of his beer, and giving Kevin a pointed look. "They're
friends
."
Tyler burst out laughing. "
You
got friend-zoned?"
"No," Kevin said slowly, picking up his drink, surprised Matt hadn't told Tyler about the situation he'd stumbled upon. "
I
was the one who said I wanted to be friends."
"Why?" Tyler asked, watching Holly with a little more interest than Kevin liked. "She's hot. Do you know if she's seeing anyone?"
"No." Kevin's irritation grew.
Tyler stood and adjusted his tie, a smirk lighting up his eyes. "Screw the brotherhood. I think I'll go over and introduce myself."
Kevin was up in a flash. "I don't think so."
"Why not?" he looked surprised. "She looks like she'd be worth a short break from my hiatus from women."
Kevin stepped in front of his path, his jaw set. "Because you're a prick who will use her and toss her aside and she deserves a helluva lot better than that."
Matt was up in an instant, grabbing Kevin's arm. "Why don't we get some air?"
"You like her," Tyler said, slack jawed.
"Of course he likes her," Matt said. "For someone so smart, sometimes you're an idiot."
"In my defense," Tyler said. "He said they were friends."
"Okay," Matt said slowly. "When was the last time
you
convinced a woman to be just a friend?"
"Never."
"I rest my case, counselor."
Tyler sat back down, and Matt tugged on Kevin's sleeve to get him to join them.
"I can't believe you didn't last even a single week," Tyler said.
"He didn't last a single
day
," Matt told him. "He slept with her the night after our agreement to remain single."
Tyler burst out laughing. "For a tough-ass former Marine, I expected you to be the last holdout, man. At least a week or two."
Swank has created a fun and real romance with this novel that romance lovers from all walks of life will enjoy. I enjoyed the intricate world building that flowed naturally with the romantic yet meddling plot that Swank pens. The flow of her writing suits the characters perfectly, allowing the plot to flow naturally. It did have a bit of a comedy of errors feel at times which made the entire story even more fun.
I'll admit that I was expecting a bit of a formulaic tale based on the burb of this novel. But I was pleasantly surprised when it definitely blew me away. This was an original and at times comical tale that had me laughing and loving long with the characters. That said, it did take me a bit to get fully invested in this novel, but once all of the characters were on the same page, I couldn't put it down.
Swank has created main characters that I loved getting to know, and allows readers to get to know them within the context of their everyday lives. The interactions between the main characters were so blatantly real that I couldn't help but envy them. I also couldn't help but laugh when they finally realized their connection to one another. Talk about degrees of separation. There is actually a great deal of character development throughout this novel, and it doesn't stop with the main characters. Kevin's mom was so over the top throughout. She really stood out without overshadowing the main characters.
This new to me author is one that I'll definitely be watching for in the future.