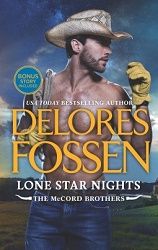 Title:
Lone Star Nights
Series:
The McCord Brothers #2
Author:
Delores Fossen
Publication Date:
June 1/16 by Harlequin Books
Length:
384pgs
Genre:
contemporary romance
Shelf:
Netgalley
My Rating: ★★★★★ Book Links:
Goodreads
–
Amazon(US)
–
Amazon(CA)
-
B&N
-
Kobo
-
Indigo
-
Google Play
Back Cover Blurb:
No strings attached is pretty much Lucky McCord's calling card in Spring Hill, Texas, but when family is on the line, this cowboy's honor and heart are about to get lassoed, tied and branded
Every family needs its black sheep, and Austin "Lucky" McCord is happy to oblige. The bad-boy bull rider lives fast and loose, until his business partner leaves him an unexpected bequest. Suddenly Lucky is sharing custody of two children with Cassie Weatherall, one of the few homegrown women he hasn't bedded. And not from lack of trying...
Cassie fled her messy past to become a celebrity therapist in LA. So why does it feel so right to come back and share parenting duties--and chrome-melting kisses--with a man she's striven to avoid? Loving Lucky always seemed like a sure bet for heartache. But for this perfectly imperfect family, Cassie might just gamble with everything she's got.
My Review:
Fossen has definitely created a hard hitting and emotionally draining novel that was also light, fun and smoking hot. The way that she melded the different parts of the plot together allowed me to truly experience every aspect while also falling in love with the characters. I also enjoyed the way that the writing changed pace to highlight the current action of the tale. I will say that I was absolutely flabbergasted by the things discussed in front of the children as if they weren't even there. But at the same time it worked with the story.
The way that Lucky sees himself is actually quite ironic. His hangups were precious yet his past hurts were heartbreaking. Cassie & her F-word were hilarious. It made me giggle every single time. She was all sweet to Lucky's strong. I loved the way that their personalities meshed while never overtaking one another. I also really enjoyed the way that the children were developed throughout. They weren't simply there, but rather were prominent players in what was going on at the McCord Ranch.
This novel was a whole lot of fun and full of real romance. It is a fantastic read for lovers of contemporary western romance, whether or not they've read the 1st novel in the series.