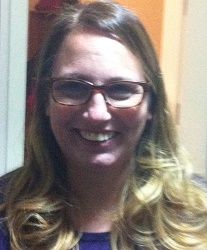 Q ~ Can you tell us a bit about yourself?
Just a bit? Okay, here goes. I was born and raised in Wisconsin – the cheese state of the U.S. After begging, pleading, and more than a few tears, I persuaded my parents to let me go to Germany for my last year of high school. In Germany, I contracted a wicked case of wanderlust that is yet to be sated. After getting a degree in history, I joined in the U.S. Army as a military policewoman and happened upon this cute Dutch military police officer while stationed in Heidelberg, Germany. I dragged the Dutch boy back to the U.S. with me so that I could finish my years of military service and get another university degree; this time in law. My Dutch boy became my Dutch husband and he persuaded (okay, there wasn't much persuasion necessary) to move to the Netherlands with him. I worked as a commercial lawyer in the Netherlands for a decade before my wanderlust flared again. I kind of blackmailed my husband into buying an old pension in the Eifel region of Germany and turning it into a Bed & Breakfast. Unfortunately, running a B&B was not for me. The hubby convinced me to take an old manuscript down from the attic and self-publish it. Several books later, I find myself writing full-time in Istanbul.
Q ~ If you were stuck in a dingy floating in the middle of the ocean, who and what would you want with you and why?
I'd definitely want the hubby with me. He's a pilot and has done tons of courses on surviving in extreme circumstances. He probably has lists of important stuff to bring like a mirror, water purifier, etc. But I want my kindle with me or at least a copy of some really thick tome like War and Peace. I may endure hunger, but a day without reading? Nope, not going to survive that.
Q ~ How do you think people perceive authors?
I'll give you a typical lawyer answer for that one: it depends. Self-published authors are often treated like the red-headed step-child of the 'real' authors – those with publishing contracts with one of the big houses.
Q ~ How do you feel about self-publishing?
It's a double-edged sword. On the one hard, it's completely and totally awesome. Tons of great authors now have the opportunity to publish (including myself!) who may have not been able to get publishing deals. On the other hand, there are unfortunately way too many self-published authors out there who don't use an editor and make me wonder if they even know what spell check is. Wow! That sounded way mean, but unfortunately it's true. Trust me, I made these same mistakes when I started out
Q ~ What is your favorite quote, by whom, and why?
From the Road Not Taken by Robert Frost.
Two roads diverged in a wood, and I—
I took the one less traveled by,
And that has made all the difference.
This quote speaks to my soul. Not only do I feel an affinity with the quote as I have definitely taken a few roads that were less traveled, but it also gives me courage to take the less popular choice.

Q ~ What is your favourite genre to read? To write?
What I'm reading really depends on my mood. When I'm beyond busy and stressed, I'll read some simple romance without too much drama. If I've got a few hours of time, I'll read a more complicated tale of fiction – anything from women's fiction to a spy thriller. I also enjoy non-fiction biographies; preferably those of a historical nature.
As far as writing is concerned, I like to write funny stuff with characters who speak their mind. I'm totally jealous of my loud-mouthed characters.

Q ~ Do you have a favourite author? Do they influence your writing?
Can you only have one favorite writer? I have quite a few; from Amatov Ghosh to Janet Evanovich. A good author or great book doesn't necessarily directly influence my writing. It's more like – 'Wow! They are awesome! How can I make myself awesome?' I may use the word awesome a bit much.

Q ~ How did you begin writing? Was there a single catalyst or a series of events?
That's never an easy question to answer. I've always been writing. When I was young, I wrote poems, short stories, and song lyrics. All of it absolutely dreadful, of course. I just never thought author was a 'smart' choice of occupation. When I was completely and stressed out from playing lawyer, I took a break and started to get serious about writing. But it was when self-publishing exploded that I finally found the courage to try and turn myself into a writer.
Q ~ What's the best thing that's happened since you began writing? The worst?
The worst is easy. The bad reviews. No matter how many I get, I still feel like someone opened up my insides and poured acid directly on my organs when I read one. The best thing is actually easy as well. I got an email from a blogger last week saying she saw that I had a new book out and couldn't wait to read it! OMG! I have fans. Awesome!
Q ~ Can you tell us a little bit about your latest release?
Of course!
Bring Your Own Baker
is the second book in the
Death by Cupcake
cozy mystery series. The series consists of three standalone novels (at least that's the plan). Each book features another worker at Callie's Cakes, a cupcake bakery where murder investigations are on the menu.
Bring Your Own Baker
stars Anna, the bakery's pixie baker. Unfortunately, she stumbles upon an old college friend who has been stabbed to death. When the police investigation stalls, she decides it's up to her to find justice for her friend.
Q ~ What was the most difficult part of the process while writing it?
I was a really bad girl while working on this novel. Instead of writing out clues and making an outline, I just wrote and wrote. That may work for some people, but it got me into a lot of trouble with timelines and then I was 75% and I wasn't sure whodunit and how I was going to get there. Oops!
Q ~ When you write, do you lay out a solid outline before beginning, or start writing and iron out the kinks later?
Since I write mysteries, I normally like to make a ton of notes before I start writing. The notes turn into a very vague outline, which gets more detailed as I write. Ironing out kinks later is way too much work.
Q ~ Do you have anything in the works at the moment? Care to give us a hint about it?
The idea is to get started on the third book in the
Death by Cupcake
series. This installment in the series will feature Kristie, a part-time worker in the bakery. Kristie is out to save the world. Unfortunately, she ends up in hot water when she awakes in her apartment next to a dead man! Of course, she has no idea how she got home, let alone how the man died. She doesn't even know who the man is!
Q ~ If you could give aspiring authors one piece of advice, what would it be?
Be realistic and just keep chugging along. Be realistic refers to the unfortunate fact of life that most writers do not make it big with their first release. When the sales of the first book (and perhaps even the second and third books) are disappointing, just keep at it. Don't forget to put the work into marketing either!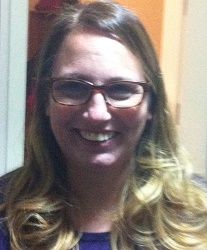 About the author:
I grew up reading everything I could get my hands on from my mom's Harlequin romances to Nancy Drew to Little Women. When I wasn't flipping pages in a library book, I was penning horrendous poems, writing songs no one should ever sing, or drafting stories which have thankfully been destroyed. College and a stint in the U.S. Army came along, robbing me of free time to write and read, although I did manage every once in a while to sneak a book into my rucksack between rolled up socks, MRIs, t-shirts, and cold weather gear. A few years into my legal career, I was exhausted, fed up, and just plain done. I quit my job and sat down to write a manuscript, which I promptly hid in the attic after returning to the law. Another job change, this time from lawyer to B&B owner and I was again fed up and ready to scream I quit, which is incredibly difficult when you own the business. Thus, I shut the B&B during the week and in the off-season and started writing. Several books later I find myself in Istanbul writing full-time.
Author links:
Website
-
Blog
-
Facebook
-
Twitter
-
Google+
-
Pinterest
-
Goodreads
-
Amazon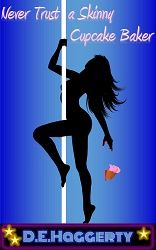 About Never Trust a Skinny Cupcake Baker:
A mystery with a heap of laughs, a generous portion of romance, and just a smidgeon of suspense.
Callie's life is rather awesome. She owns a successful bakery and teaches German literature at the local university. There's just one tiny problem. She has no self-confidence when it comes to her body. And then there's the little matter of her being accused of murdering her pole dancing instructor. There's no way Callie's going to risk losing her teaching position and thus she embarks, with her best baker bud Anna, on a journey to discover the real killer. Between stripper auditions and a detective who insists Callie is the woman of his dreams, it's a roller coaster adventure. Cupcakes not included.