Q ~ Can you tell us a bit about yourself?
Sure! I'm an award-winning author and editor who lives in the middle of a cornfield in NW Indiana. Like, literally. In the middle. I have a wonderful husband and two beautiful children who, in exchange for three meals per day and laundry service, have agreed to hang out and inhabit the halls of my lunacy. Poor souls. Meanwhile, an underground coup has been percolating. The dog just informed me the cats are vying for dictatorship.

Q ~ What's something that you never leave home without?
Lipstick…and my cell phone.

Q ~ If you were stuck on a deserted island, who and what would you want with you and why?
Oh, I'd definitely want my family with me. Both my kids and my husband. The four of us…we're so close. A tight knit team that just has the best time together. Now that my kids are a bit older, we usually spend most of our time cracking each other up. As a family, we're hilarious. No joke. And if we work together toward a common goal, we're unstoppable. It's awesome to see us in action because we know one another's strengths and weaknesses so well. We'd have that island set up with food and shelter in under a day. Seriously, no problem. I'd also want my laptop with me with and unlimited battery supply. So, you know, I wouldn't end up writing in the sand with a stick.

Q ~ What is your favorite quote, by whom, and why?
Change, and become like a child. It's from the Bible, Matthew 18:3, and speaks to humbling oneself to enter the kingdom of Heaven. But, to me, there is so much more hidden in those six words. Just think about it. If everyone viewed life through the eyes of a child—with hope, wonder and faith—the world wouldn't be in such a bad place. It's simple. Just change.

Q~ Who is your favorite literary hero(ine) and why?
Ooooh…tough question. I'm gonna have to pick two because I love both of these women. Dagny Taggart from Ayn Rand's Atlas Shrugged because she never gives up. Never. Despite all the BS thrown at her that woman displays a strength I envy, and the determination to do what is right regardless of how she has to fight every single step of the way. Also, Phedre no D'Launay from Jacqueline Carey's Kushiel's Dart series. Holy crap. Phoedre is actually a renowned courtesan in this series, who starts with basically nothing to her name. An orphan. No family or money. By the time her journey is complete, she is a powerful woman who is a close advisor to the queen

Q ~ Ebooks, paperbacks, or hardcovers?
Wellll…all of the above but, honestly, a hardcover is my favourite. Just something about the weight of the book in my lap, the smell of the binding and the soft texture of the pages under my fingertips. Best smell in the world is when I first walk into the library. LOL

Q ~ How did you begin writing? Was there a single catalyst or a series of events?
No. Well, maybe. I always knew I would be a writer. And by always, I mean I knew at about the age of five. Writers are born with the condition. It's not something we choose, writing is a part of who we are. Sorta like eye color or being right or left handed. But I also knew I needed to experience life a little before I began. So that I could reference things I'd been through—emotionally, physically, mentally—in order to create authentic characters and scenes in my stories. It wasn't until my youngest started kindergarten that I sat down to write my first story.

Q ~ What's the best interaction you've ever had with a fan?
Oh, this was a cool day. I'll never forget the time I ran into a woman at the grocery store. She stopped me in the middle of the aisle, pulled my book from her purse, flipped to a page she'd marked and read my own words back to me. I think I stood there with my mouth hanging open for a full ten seconds. She then went on to say how much that passage had moved her. How she'd connected with the heroine and the moment I'd created meant. That is a day I will never forget.

Q ~ What are your biggest influences in life?
Who are your biggest supporters? Life, in itself, IS my biggest influence. LOL Everything I see, hear, touch, taste and smell eventually makes it into a book. That's the way writers are, I think. We're always cataloguing our experiences for later reference. As for support, I have a fabulous group of writer pals that are always at the ready to offer any advice I might need. I'd be lost without those wonderful friends, but I also must mention my husband and family. They are here, with me, while all the writing is going on. They listen to me complain, share in my joys, and sometimes even talk to me as if my characters are real. That makes all the difference.

Q ~ Why did you choose to write romance as your primary genre?
I think it's Mark Twain who is credited as saying, "Write what you know." I know great love so, for me, the choice was obvious. Of course, Hemmingway said, "Write drunk, edit sober" so what do I know?

Q ~ When you write, do you try to reach a specific word count or simply write until you are done?
It totally depends on the situation. If I'm on a deadline, I have to approach my time at the computer like a job and write for word count. Like, you wouldn't go to your job and not finish what you absolutely have to, right? You do the tasks handed to you by your boss and get them completed before leaving for the day. If I'm not on a deadline, I write until I feel like stopping or I simply run out of daylight. LOL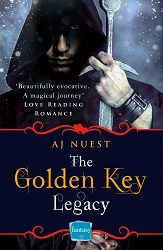 Q ~ Can you tell us a little bit about your latest release and what inspired you to write it?
The Golden Key Legacy is my last release, a time travel fantasy romance which came out from HarperImpulse earlier this year. It's available in serial novella format (sorta like a TV show) and also as a complete standalone collection set. The reason I wrote it was to continue with the world I'd created in The Golden Key Chronicles, which I had written for HI in 2015. I've always had a "thing" for fantasy and couldn't wait to write one. It's the genre I read for pleasure, so getting these books published was honestly a dream come true for me. :)

Q ~ What music did you listen to while writing?
I don't. I can't, really. I get too distracted by the lyrics because I have such a horrible word addiction. Generally speaking, my best writing happens while I'm double-tasking. Like, cleaning or gardening—something mundane that doesn't require thought. I do those things and continuously return to my laptop to get the words down as the book is streaming in the background.

Q ~ What type of characters did you find yourself especially drawn to and why?
Tortured. LOL Characters that know themselves but also learn something new during their journey to happily ever after. I also love writing exceptionally strong women. Probably because I am one and those are the heroines I connect with most. I'm not the type to sit around, waiting for someone else to come and rescue me. Just get out of the way and let me do it myself. Whether my heroines are a 14th century knife-wielding sorceress or a quick-change con artists looking to exact a little revenge, they've all got one thing in common. Power to the SHE!

Q ~ If you were stranded on a desert island with one of your characters (from any novel you've written) who would you choose and why?
Oh, Lord. Seriously? I can't pick just one. Okay, contrary to having some buff, dark-haired tower of simmering testosterone-fuelled strength with me (although that sounds pretty darn good), I'd probably pick Iman Diller, the dear friend of my heroine in a yet unpublished book entitled Flicker. He's a cross between Mary Poppins and Mr. Magorium. We'd fish while discussing the meaning of life. I'd never run out of questions with Iman.

Q ~ Do you have a favourite character (or two) in your latest series? What is it that draws you to them?
I love, love, love Caedmon and Rowena in The Golden Key Chronicles. I think they are probably my favourite, followed closely by Detective Kelly Riordan and Eden Smith in Dirty Deeds, the first book in a series I have coming out from Lyrical Press in January, 2017. In both cases, the way they fight is awesome. I love creating tension between my hero and heroine and these couples…there is just something about them that is epic. I love the way they drive each other nuts.

Q ~ Do you have anything in the works at the moment? Care to give us a hint about it?
Yes and YES! Right now, I'm writing my second romantic suspense to fulfill a three-book deal I recently signed with Lyrical Press. And holy CRAP! I love this series! I can't even begin to tell you how much I have fallen in love with these characters. All of them. They are sharp and strong and tortured and totally and completely sexy. LOL I just cannot wait for the first book to hit. In fact,
Dirty Deeds, A Likely Story
, is up for pre-order already (
https://amzn.com/B01FBZXR5I
), but there's no cover yet. Still waiting. Generally takes forever. I can share the blurb, though! SQUEEE!
An Eye for an Eye
As owner of Dirty Deeds, a tech-savvy company specializing in the age old art of revenge, Eden Smith knows first-hand that secrecy is critical. But when a dead body washes up on the shores of Lake Michigan clutching her business card, Eden's well-constructed world begins to fall apart. Apparently, she's not the only one with a passion for payback, and staying alive to outsmart a killer has become her most important job of all.

A Game for a Game
Hardened homicide detective Kelly Riordan is convinced Eden Smith is hiding more than she's willing to admit. Years on the force have taught him that nothing is what it seems, and that couldn't be more true than when it comes to investigating the alluring owner of a revenge-for-hire business. But revealing her past could put everything Eden has worked for in jeopardy. And trusting a man like Riordan goes against the very instincts that have kept her alive this long.
Q ~ Do you have any conferences/book signings/events coming up?
None right now, but that could easily change at any moment.

Q ~ If you could give aspiring authors one piece of advice, what would it be?
READ. Read everything you can get your hands on. Read stories from authors you would like to emulate. Read books on the craft of writing. Read articles on industry trends and what readers are looking for. Read, read, read…and never, EVER give up. Keep writing every day even if it's only one sentence. Write, read and never give up on your dreams. Do those three things and you'll get there. I promise.
She and the cat are currently vying for dictatorship. The cat is winning.