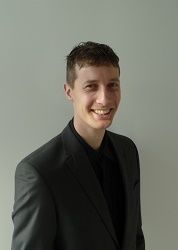 Can you tell us a bit about yourself?
It is a pleasure to meet you, my name is A.J. Norfield. Father of two and amazing husband (I'm sure my wife will confirm this at all times ;)). At the moment thirty-five years old, though many people feel the need to compliment me by estimating me in my mid-twenties (…so generous! Thank you all). I'm an energetic person, who enjoys life as much as possible. I love to travel and explore, though both now usually take place in the corners of our backyard, where me and the kids will always find something new to be amazed at/grossed out by.
For the last few years, I've carefully been walking the road of authorship, with many challenges and tons of learning experiences. I feel good about my debut novel and hope many readers will appreciate the story experience, while I work on continuing the series that I've started.
Sleep in or get up early?
Hard to choose…sleep in most likely. With two small children, that often is not possible anymore so if I can I love to turn around one more time and catch up on some much needed sleep. Since I often write late in the evening, my head usually does not meet my pillow before midnight, so any additional time in the morning is welcome. However, since there is only a limited amount of hours in the day, to get up early means to have more time to be productive and that is a valuable thing as well. Long story short: sleep, I should do it more often… :)
What is your biggest pet peve?
I'm a doer. I tend to get antsy if people take too long to talk about preparations, or how things should be done. Call me when there's a clear timeline and actions to be taken and leave the planning details to someone else. As a result I'm sure many in my surroundings will say I often lack the skill to sit still (literally), I'll always be tapping a finger, or wiggling a foot. Luckily whenever I get bored, I've got a great storyline challenge I can zone out to in my head as I continue to plot and scheme the events of the next four books in the Stone War Chronicles series.
If you could have coffee (or tea) with any author who would it be and what would you ask them?
If that's dead or alive, I would like to meet Anne McCaffrey, she looked like a proper tea lady. Her books have been a large part of my life and a great inspiration. I would have loved to know the person behind the books and see what she was about.
What is your favourite genre to read?
For reading I'm stuck in the same genre that I write in. I love to read about magic, swords and dragons. I've read many Arthur (the original) romans back in the day (for school), and enjoy the occasional leap to sci-fi, but mostly fantasy is where it's at for me. That said, I barely have time to read with many other interests out there in the world asking for my attention.
Ebooks, paperbacks, or hardcovers?
EBooks = writing, paperbacks = reading, hardcovers = amazing. There's some overlap between them all, I don't own many hardcovers, but I can honestly appreciate many amazing hardcover editions out there in the world. I publish my writing in eBooks and paperbacks, but perhaps hardcover editions will come as more books in the series are released.
For reading I really love the feeling of a nice paperback in my hands and I often have one with me during my travels. I sometimes read eBooks, but I don't own an E-reader (yet), so I read those on the computer. Who knows, maybe it's about time for a nice Kindle Oasis or something, but paperbacks feel more…real, or perhaps more romantic. Besides, I like the idea of my children browsing my shelves—when they are a bit older—to see which great fantasy books there are to read in the world.
How did you begin writing? Was there a single catalyst or a series of events?
It slowly worked itself into existence. I've always had the idea to write a book (or books for that matter), but it didn't materialize itself until I was able to feel my way through the world and storyline of the
Stone War Chronicles
in the dark hours of the night. In my case it really started with one particular night, where I couldn't catch my sleep anymore after my daughter had woken me up. In that night, the first ideas of everything took shape—from there it started to expand.
Who are your biggest supporters?
I have a number of wonderful colleague that are really supporting of my writing efforts. They provided advice, helped on grammar and beta-reading, which I really appreciate. With my second book I'll be happy to accept their input, if offered again. And I cannot forget my wife, who more than once mentioned how proud she's of me—for my self-discipline and the effort I put in to follow the road of self-publishing. She really is amazing.
When you write, do you lay out a solid outline before beginning, or start writing and iron out the kinks later?
The storyline I've set is spread out over five books (at least) however the details don't fill themselves in until I get to certain points in the stream of events. I'm a person that writes from front to back. I occasionally will write a scene here and there, but only to get it out of my head so I can continue the normal timeline again.
What inspired you to write 'indcatcher?
Mostly my appreciation of the genre. I'm a great fan of the
Dragonriders of Pern
and
Temeraire
(among others), which are both huge inspirations for my work. I've never read
Eragon
and the other books in the Inheritance Cycle series, though some readers do make a comparison to the books of Christopher Paolini. Besides them I draw inspiration from many places in my life; traveling, anime/manga, my kids, movies and video games, the many amazing creations on Deviantart, conversations with people around the world—really too much to mention. They all bring something to the table, which in turn I use to try and create a vivid and entertaining story to read. If I succeed at it will be up to you, the readers.
Do you have a favourite character in the novel? Is this person based on someone, or multiple someones, in your life?
The dragon (or multiple if you count the other books that are to come) are at the top of the list. Coming into the world as "children", eager to discover and explore. Each with a distinct personality and their own flaws and strengths. I enjoy exploring their bond with the human counterpart they choose and dive into the way relationships can bend or break under extremes.
Many of the other characters have influences from people I know, as I truly 'write what I know', but everything is mixed, unraveled and mixed again, so I wouldn't be able to say which parts are connected to any real-life people I know. Also, since this is the genre of fantasy, naturally much of it is spiced up or extended upon from my own imagination.
What's up next for you writing wise? Care to give us a sneak peek?
Currently I'm busy working on the second book in the
Stone War Chronicles
, called
Wavebreaker
. It will introduce a second dragon and new (female) main character, to experience their own storyline. The reader's view on the world will increase, as we see the Stone King's plans unfold and follow new and old friends on their roads to overcome the obstacles they encounter.
The first draft is nearing completion, but I fear my busy life means still several months of writing ahead. While I do have some parts more finalized than others, I prefer to keep things under wrap until the story approaches a more final form. However, feel free to check out my website, or Facebook page in the future to get access to such kind of privileges.
What's one piece of advice you would like to give those who'd like to start writing professionally?
The first steps are reasonably simple: Just start writing. Write and rewrite, talk to people about writing and learn from the many great places on the internet that discuss the strengths and weaknesses of storytelling.
Then feel proud of what you accomplish. Not everyone will like your story (literally impossible with so many opinions around the world), so focus on those that do and see how you can keep improving your storytelling more and more.
One final piece of advice for those that follow the road of self-publishing: The hard work is not done when you finalize your novel. Marketing is a huge part of getting your book out there and without a (good) publisher behind you to help you push your novel, it can take a lot of work to get people to read your book. Many would probably say, but an eBook costing just $2.99 dollar: how hard can it be to convince someone to buy it? But! It's not the money that is the obstacle, readers are investing their time (the most valuable resource in many people's life, if you ask me) and want to be sure they are not wasting it on a bad experience. So, write a good story, then try to make it better and be prepared to be in it for the long haul. Don't let yourself get discouraged along the way, keep it fun, take breaks when you need them and continue your story when you can.
About the author:
A.J. Norfield lives with his loving family on land but below sea level. He tries not to worry too much about climate change and the melting of the polar ice caps. His wife and two rascals of children keep him engaged and grounded in life while he pursues goals of publishing a story that has been stuck in his head for years.
As a longtime forest and mountain enthusiast, he often wonders about his flat surroundings and how to escape them. In his free time, if available at all, he enjoys a wide variety of gaming, reading/writing, drawing and socializing. His interest in (dragon-fantasy) novels has followed him throughout his life ever since he was young enough to read. It was this interest—with a number of broken nights thanks to his daughter's sleeping schedule—that eventually lead to his current undertaking to write his own dragon-fantasy series 'The Stone War Chronicles' and put it out into the world.
Inspired by established names like Anne McCaffrey, Terry Goodkind and Naomi Novik—to name only a few of many—he is ready to show the world what he has to offer.A.J. Norfield is the author of
Windcatcher
, an action-packed dragon adventure in the genre of epic fantasy. Windcatcher is the first book in a newly published series called the Stone War Chronicles, with book II planned to be released later this year.
Note: Curious to see if Windcatcher has a tragic end to deal with? You'll have to find out yourself! The book is available as eBook or paperback on amazon, and even FREE on Kindle Unlimited. Get it now!
http://www.amazon.com/Windcatcher-Book-Stone-War-Chronicles-ebook/dp/B017DPE2BW/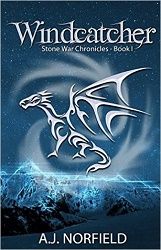 Title:
Windcatcher
Series:
Stone War Chronicles #1
Author:
A.J. Norfield
Publication Date:
February 29/16 by LowSea Publishing
Length:
386pgs
Genre:
fantasy
My Rating: ★★★★★
Book Links:
my review
-
Goodreads
–
Amazon(US)
–
Amazon(CA)
-
B&N
Back Cover Blurb:
Far away from home, under the command of his brother, Raylan and his squad must retrieve an ancient relic stolen from their kingdom's trading partner—the Tiankong Empire.
Traveling deep into unknown enemy territory to complete their mission, Raylan learns that the ancient relic holds unexpected life; a creature buried in legends, one not seen in their world for more than two hundred years.
With their enemies closing in, Raylan and his friends search, desperately, for a safe way home. Danger lurks around every corner: Warriors larger than any man, predators stalking them through the night and soldiers determined to hunt them down. Leaving them all little choice, except to keep moving as they strategically plot—and skillfully fight—their way back to those awaiting their return.