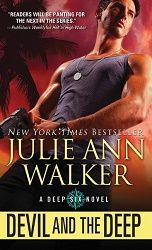 Title:
Devil and the Deep
Series:
Deep Six #2
Author:
Julie Ann Walker
Publication Date:
July 5/16 by Sourcebooks Casablanca
Length:
384pgs
Genre:
romantic suspense
Shelf:
review
My Rating: ★★★★
Book Links:
Goodreads
–
Amazon(US)
–
Amazon(CA)
-
B&N
-
Indigo
-
Google Play
Back Cover Blurb:
Second in NYT & USAT bestselling author Julie Ann Walker's new romantic suspense series featuring former navy SEALs

The former SEALs of The Deep Six return in a sizzling series from New York Times and USA Today bestselling author Julie Ann Walker.
A COVERT MISSION
Maddy Powers's life revolves around cocktail parties, political fundraisers, and charity events — but she can't forget the daring former SEAL who appropriated her father's yacht a few months ago … or the scorching kiss they shared before he disappeared into the deep blue sea.
SPARKS A FLAMING DESIRE
Bran Pallidino carries a dark secret behind his lady-killer eyes — one that keeps him from pursuing a serious relationship with Maddy. But when she's taken hostage during a trip to the Dry Tortugas, the men of Deep Six Salvage drop their treasure hunt for a sunken galleon and embark on a dangerous mission to save Maddy.
WITH EARTH-SHATTERING REPERCUSSIONS

As they fight her merciless kidnappers, they discover this isn't a simple hostage situation, but something far more sinister. Passion boils between Bran and Maddy, but what good is putting their hearts on the line if they don't survive the dawn?

About the author:

Julie Ann Walker is the New York Times and USA Today bestselling author of the Black Knights Inc. romantic suspense series. You can find her on her bicycle along the lake shore in Chicago or blasting away at her keyboard, trying to wrangle her capricious imagination into submission. She lives in Chicago, IL.
My Review:
I love the way that this author balances suspense with romance, chemistry with history, and friends with moments that will never be forgotten. All the while, she develops an intricate story that kept me on my toes and set it in such a manner that I could picture all of it. I love the way that the Santa Christina was integral to the lives of these characters. The way that it actually served to increase the suspense of the tale, adding a second storyline for readers to become enmeshed in. It also ties the series together through more than simply the characters that Walker creates.
The characters in this novel were larger than life, but at the same time very real. They were hard to look away from and easy to love, while always being less than perfect. This humanity made them so endearing. The dynamic between Bran and Maddie had me in stitches, followed in a close second by Mason and Alex.
Walker has created a fantastic second instalment in this series. She seamlessly draws everything together while keeping me on my toes. It was a lot of fun and I definitely can't wait for more.