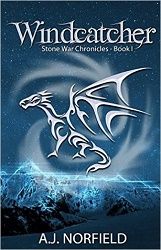 Title:
Windcatcher
Series:
Stone War Chronicles #1
Author:
A.J. Norfield
Publication Date:
February 29/16 by LowSea Publishing
Length:
386pgs
Genre:
fantasy
Shelf:
review
My Rating: ★★★★★ Book Links:
Goodreads
–
Amazon(US)
–
Amazon(CA)
-
B&N
Back Cover Blurb:
Far away from home, under the command of his brother, Raylan and his squad must retrieve an ancient relic stolen from their kingdom's trading partner—the Tiankong Empire.
Traveling deep into unknown enemy territory to complete their mission, Raylan learns that the ancient relic holds unexpected life; a creature buried in legends, one not seen in their world for more than two hundred years.
With their enemies closing in, Raylan and his friends search, desperately, for a safe way home. Danger lurks around every corner: Warriors larger than any man, predators stalking them through the night and soldiers determined to hunt them down. Leaving them all little choice, except to keep moving as they strategically plot—and skillfully fight—their way back to those awaiting their return.
My Review:
This is the most epic debut novel that I've read in a long, long while. This novel starts with a bang and keeps on going the whole way through. Norfield's active writing style fits perfectly with the tale at hand. His voice flows and morphs to highlight the current events of the tale while always remaining enchanting. Norfield pens intricate and vivid action sequences without being too gory then switches to picturesque travelling scenes that were absolutely breathtaking.
I love the history and mythology that Norfield developed for this tale. It is part of the action and magic of the tale. Readers visit a variety of different lands and meet many different peoples throughout this novel. Each is unique and captivating in their own way. The world that Norfield develops has a definite Oriental feel to it while also remaining completely unique.
Intricate world building is second only to the phenomenal character development in this novel. Norfield develops individuals gradually, as if you were actually meeting and travelling with them. I also enjoyed how Gallirras was developed as an individual, right down to the different types of wind magic that he employs.
This is not a 'fluffy' read but is definitely a novel well worth reading. It's going on my re-read shelf and I can't wait to delve further into the series and this author's hypnotizing writing.