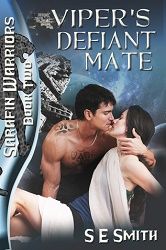 Title:
Viper's Defiant Mate
Series:
Sarafin Warriors #2
Author:
S.E. Smith
Publication Date:
May 26/15
Length:
280pgs
Genre:
SciFi Romance
Shelf:
own
My Rating: ★★★★★ Book Links:
Goodreads
–
Amazon(US)
–
Amazon(CA)
-
B&N
-
Kobo
-
Indigo
-
Google Play
–
Smashwords
Back Cover Blurb:
Prince Viper d'Rojah, a warrior from the Sarafin cat shifter species, is not happy when he is sent on a special mission by his older brother Vox, King of the Sarafin. The mission is to deliver important documents to the human authorities before kidnapping the sister and grandmother of Vox's mate, Riley. He has handled tougher assignments in his sleep and just wants to get back to finding the traitors trying to kill him and his family!

Tina St. Claire was finally happy with her life until her big sister, Riley, suddenly disappeared. Even Grandma Pearl suspected that Riley's ex-employer was hiding something. Determined to find Riley, Tina's research unwittingly leads the danger to her and Grandma Pearl. The unexpected arrival of a strange man causes things to go from bad to worse when he gives her and Grandma Pearl a packet of material he claims is from Riley.

Riley had warned Viper that neither her sister nor Grandma Pearl would willingly come with him. Viper could care less whether the females wanted to come or not, he had never failed a mission and wasn't about to start now.
Viper soon discovers this mission has turned into the most important one of his life when both he and his cat recognize that Tina is their mate. Now, he has to keep Tina and her gun toting Grandmother alive. The question is, who is going to save him when both women discover his plans to kidnap them?
My Review:
This novel has it all. Danger & suspense, heartache and redemption, out of this world adventure, and above all, love & sizzling chemistry! Smith's vivacious characters are set off by her fun and adventurous writing style. She develops the world at hand in an exciting manner that allows you to experience it, rather than just reading about it. All throughout the pace of the plot never lets up, drawing readers completely out of this world.
Viper was one bitter and antagonistic dude. I loved seeing the scrapes that he got himself into. At the same time he was quite caring and fun. It was a unique mix that really made him stand out. Paired with Tina's quiet persona that erupts into a flurry of action when a loved one is threatened this was quite the tale. And you can't forget Pearl. I loved hearing about her in CHOOSING RILEY, but getting to know her was even more fun.
This novel was a pure pleasure to read. It easily stands out on its own among Smith's work, while also tying in not only to this series, but into the entire cosmos that she's created.
Title:
River's Run
Series:
Lords of Kassis #1
Author:
S.E. Smith
Publication Date:
March 23/12
Length:
209pgs
Genre:
SciFi Romance
Shelf:
Own
My Rating: ★★★★★ Book Links:
Goodreads
–
Amazon(US)
–
Amazon(CA)
-
B&N
-
Kobo
-
Indigo
-
Google Play
–
Smashwords

Back Cover Blurb:
River Knight was looking forward to a peaceful vacation in the mountains with her two best friends, Jo and Star, sisters of the heart. When she travels up into the mountains of North Carolina to the cabin Star has rented for them she is shocked when she finds the two sisters being abducted. Following them, she discovers their abductors are anything but human.
Sneaking aboard the shuttle in an attempt to rescue them she finds herself on an unplanned vacation to the stars. In desperation, River makes a deal with the leader of another alien race who had also been captured – she'll release them if they promise to return the three girls to their home.
Torak Ja Kel Coradon, Leader of the House of Kassis and next ruler of the Kassis Galaxy, has other plans when he sees the blue-eyed warrior woman. He plans on claiming her for himself and the only home he has plans on her returning too is his.
The three women are believed to be the Prophesized warriors sent to join forces to bring peace to the House of Kassis. Worlds collide when the male dominated world meets three circus performers who use their talents to fight for those they love.
When an assassin threatens Torak's life, River has to show him even a circus performer can be a warrior when challenged. The biggest challenge is to Torak's mind as he discovers women from other galaxies are more than they seem.
Can their love overcome the chasm of a few million light years or will an assassin end it all?
My Review:
What could be better than a fast paced, action packed, suspense driven adventure in space? Ass some fierce circus performers and enough chemistry to overheat your ereader and you have it!
I love this new race. They are so much fun and so complex. The society is well developed and you get to see a lot about the ruling family. It makes for a fantastic backdrop to the unique tale that Smith develops. The pace never lets up throughout, yet I never felt as if we were racing forward. Vibrant descriptions bring the world to life as readers get drawn into the battle of a lifetime.
Fierce loyalty is a common thread among all of the major characters in this novel. Smith develops each character as an individual while also showing the clash of cultures and of classes. This was definitely a unique cast of characters. I love how River & Torak really stood out as well. They were both such vibrant individuals. Torak was strong and caring, with just enough arrogance to make life difficult at times. I fell for him from the get go. River's strength in the face of everything that comes at her was fantastic. At the same time, her heart was so big that I simply wanted to get to know her better.
This novel is the perfect start for this series. It was a brilliant read on its own and has me dying to read more.