Beef Tenderloin with Balsamic Tomatoes, Lenora Worth's Romantic Recipe
Ingredients
1/2 cup balsamic vinegar
1/3 cup coarsely chopped, seeded tomato
2 teaspoons olive oil
2 beef tenderloin steaks, cut 3/4 inch thick (about 8 ounces)
1 teaspoon snipped fresh thyme
Directions
1. In a small saucepan bring vinegar to boiling. Reduce heat; simmer, uncovered, 5 minutes or until reduced to 1/4 cup. Stir tomatoes into hot vinegar reduction.
2. Meanwhile, trim fat from steaks. Sprinkle with salt and pepper. In a large skillet heat oil over medium-high heat. Add steaks; reduce heat to medium. Cook to desired doneness, turning once. Allow 7 to 9 minutes for
medium-rare
(145 degrees F) to medium (160 degrees F).
3. To serve, spoon vinegar reduction over steaks. Sprinkle with thyme.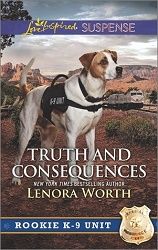 Title:
Truth and Consequences
Series:
Rooking K-9 Unit
Author:
Lenora Worth
Publication Date:
May 10/16 by Love Inspired
Length:
224pgs
Genre:
contemporary romance
Shelf:
review
My Rating: ★★★★★
Book Links:
Goodreads
–
Amazon(US)
–
Amazon(CA)
-
B&N
-
Kobo
-
Indigo
-
Google Play
Back Cover Blurb:
THE PROTECTOR'S MISSION
Honoring a promise to a fallen comrade, former army medic David Evans heads to Arizona to check up on the soldier's sister. But as his train pulls into Desert Valley, David witnesses a drug run gone wrong and narrowly avoids the bullets flying his way. And when the police show up, he discovers the investigating officer is the woman he's supposed to look after. With a fiercely protective K-9 partner and a new badge, Whitney Godwin insists she can take care of herself and her infant daughter. But the criminals want both David and Whitney permanently silenced, so David will stop at nothing to protect the family he yearns to join.
Rookie K-9 Unit: These lawmen solve the toughest cases with the help of their brave canine partners
My Review:
Solid scene building and intricate yet subtle descriptions set the scene for this suspenseful novel. Worth draws readers into her tale, allowing them to experience it as her characters battle through the turmoil they find themselves in. The plot was enjoyable and solidly written. I enjoy how this novel can be read as a standalone but that there is also an overarching plot to the series as a whole. It's the best of both worlds.
The characters in this novel definitely made the tale for me. The subtle role reversal was fantastic. It added extra depth to the tale. At the same time, the hero was definitely still strong and borderline alpha. Also, the fact that their relationship is powerful yet far from easy was so real that I couldn't help but get drawn into it. It didn't hurt that I genuinely enjoyed the main characters as well.
This was my first novel by this author but her writing has sparked my interest and I'll definitely be looking for more in the future.