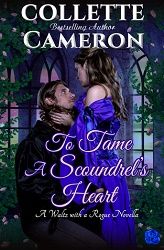 Title:
To Tame a Scoundrel's Heart
Series:
Waltz with a Rogue #4
Author:
Collette Cameron
Publication Date:
May 30/16 by Blue Rose Romance LLC in partnership with Windtree Press
Length:
140pgs
Genre:
historical romance
Shelf:
review
My Rating: ★★★★★ Book Links:
Goodreads
–
Amazon(US)
–
Amazon(CA)
-
B&N
-
Kobo
-
Indigo
Back Cover Blurb:
Katrina Needham had her whole life planned: Marry her beloved Major Richard Domont and live happily-ever-after ... until he's seen with another woman. Distraught, and needing a distraction, she agrees to assist the rugged, and dangerously handsome privateer, The Saint of the Sea, find a wife.
Dominic St. Monté loves everything about his life as a sea captain, but when he unexpectedly inherits a dukedom and the care of his young sisters, he reluctantly decides he must marry. Afterward, he can return to the sea-faring life he craves, leaving his duchess to oversee his dukedom.
Nic, now The Duke of Pendergast, enlists a family friend's help in finding an acceptable bride and soon realizes Katrina possesses every characteristic he seeks in a duchess. However, he cannot ask for her hand. Not only is she promised to another, a man still determined to make her his, she has absolutely no interest in becoming a privateer's wife.
Can Nic and Katrina relinquish their carefully planned futures and trust love to guide them?
My Review:
Cameron never fails to bring a smile to my face while creating a uniquely captivating romance. This tale is no exception. It was romance at its most basic level wound up in a comical tale that kept me on the edge of my seat. The plot was light but enriching, providing the best of all worlds to romance lovers. At the same time, Cameron brings the Victorian Era to life in a manner that allows readers to experience it without getting bogged down in technicalities.
The main characters in this novel were priceless. When you take a privateer cum Duke and turn him loose with a not-quite-proper lady and antics will follow. Cameron takes it even further, giving readers realistic and loveable individuals to journey with. Surrounding them with a secondary cast that are just as loveable and quite well developed, and Cameron has a winner with these individuals. To top it off, I absolutely love the curse words that he characters use. They were perfect. They never failed to make me giggle while also highlighting the ways that the times have changed.
As a whole this was a pricelessly romantic and wildly comical novella that held my attention from cover to cover. I wouldn't hesitate to recommend this to anyone and I also can't wait to see what Rogue she comes up with next.