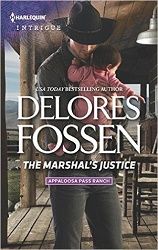 Title:
The Marshal's Justice
Series:
Appaloosa Ranch #4
Author:
Delores Fossen
Publication Date:
May 1/16 by Harlequin Intrigue (1st published April 19/16)
Length:
224pgs
Genre:
romantic suspense
Shelf:
review
My Rating: ★★★★ Book Links:
Goodreads
–
Amazon(US)
–
Amazon(CA)
-
B&N
-
Kobo
-
Indigo
-
Google Play
Back Cover Blurb:
A Texas lawman will move heaven and earth to keep his former lover and their infant daughter safe
A shoot-out on the banks of Appaloosa Creek is the last place marshal Chase Crockett expects to find his ex-lover. Former criminal informant April Landis is supposed to be in WITSEC awaiting the birth of their child. But the desperate woman caught in the cross fire isn't pregnant.
Telling Chase he was a father—two months early—wasn't an option with murderous thugs targeting April and their infant daughter. Despite the violence that divides them, her only prayer is to trust the Texas lawman sworn to protect his family. Until desire ambushes them again, leaving April and Chase at the mercy of a past with no promise of a future.
My Review:
Fossen hits the ground running with this one and doesn't let up until the very end. Suspense and danger run high as old lovers come together in a most intriguing manner. Every aspect of the setting is intricately crafting, allowing the suspense and action of the tale to happen naturally. I love the way that Fossen develops the lives of the characters as the scenery comes to life in a vivid manner. I enjoyed getting to know the main characters as they came together for a greater good, and faced their combined past.
Explosive suspense and breathtaking danger rule the day as Fossen takes readers on a trip in this unique second chance romance. Readers will enjoy every minute as they find themselves embroiled in the mystery being solved.