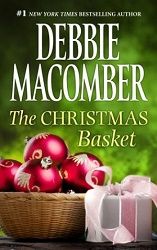 Title:
The Christmas Basket
Author:
Debbie Macomber
Publication Date:
November 15/13 by Harlequin MIRA (1st published January 1/02)
Length:
240pgs
Genre:
contemporary romance
Shelf:
borrowed
Rating: ★★★★ Book Links:
Goodreads
–
Amazon(US)
–
Amazon(CA)
-
B&N
-
Kobo
-
Indigo
-
Google Play
–
Audible
Back Cover Blurb:
That summer--more than ten years ago, while they were still in high school--Noelle McDowell and Thomas Sutton fell secretly in love. Secretly because their mothers had been locked in a bitter feud for decades. But despite the animosity between Sarah McDowell and Mary Sutton, Noelle planned to elope with Thom. Until he jilted her.
This Christmas Noelle McDowell is home to celebrate the holidays with her family. (After all, December 25 is also her birthday.) Unfortunately, Noelle's feelings about home--or rather, her hometown of Rose, Oregon--were changed forever the day Thomas Sutton broke her heart.
This Christmas the feuding mothers find themselves working together to fill Christmas baskets for charity. What irony! And what an opportunity for reconciliation...if only they could see it.
This Christmas Noelle and Thom discover they're still in love. Regardless of their mothers' reactions, they want to be together. Is that possible? Can old rivalries be set aside? Will Sarah's Christmas daughter have a second chance with Mary's charming son?
Maybe she will...this Christmas!
My Review:
What a tale! As usual, Macomber melds emotions with more than a few laughs to create a heartfelt tale that really connects you with the characters. The completely over the top reactions from the characters were priceless. Noelle's mother was absolutely ridiculous. She was so absorbed in an age old feud that she didn't take anyone else's wants into consideration. Thom's mom wasn't much better. Together they served to create an interesting backdrop for the emotional reunion between Thom and Noelle. I really enjoyed the way that the characters all played into the intimate second chance romance that Macomber has created.
This novel is absolutely hilarious year round. It's great for those looking for a quick, sweet read that will give you more than a couple of laughs.