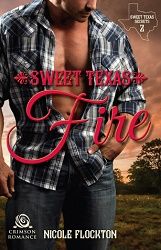 Title:
Sweet Texas Fire
Series:
Sweet Texas Secrets #2
Author:
Nicole Flockton
Publication Date:
April 11/16 by Crimson Romance
Length:
203pgs
Genre:
contemporary romance
Shelf:
review
My Rating: ★★★★ Book Links:
Goodreads
–
Amazon(US)
–
Amazon(CA)
-
B&N
-
Kobo
-
Indigo
-
Google Play
Back Cover Blurb:
Small town. Big secrets. Welcome to Sweet Ridge.
Gage Cooper has always wanted the family cabin. Not only for the oil on the property, but as a way to prove to his father that Gage's past doesn't define his future. When his dad wills the land to stranger Charlotte Wilkinson and all Gage gets is a mysterious key, he's determined to do anything to get his rightful inheritance back.
Charlotte Wilkinson never expected to inherit a piece of property in Sweet Ridge, Texas—the Aussie businesswoman is focused on building an environmental analyst career here in the States. But the moment arrogant oil-man Gage Cooper walks into her office accusing her of seducing his father, all plans for selling the property to him fly out the window.
Then fate threatens to send her back to Australia and the dueling duo are forced to accept a fake marriage to keep their dreams alive. But as they discover common ground and a surprising chemistry together, suddenly Gage must decide what's worth more: the land he's always coveted or a future with Charlotte.
My Review:
What a sweet and unique tale. Flockton has created a lot of fun and more than a few laughs. At the same time the tale was intricate and thought provoking. Vivid descriptions bring this town to life as the lives of the characters come together in a 'could you just imagine' situation. The characters were believable and easy to get to know. I enjoyed the manner in which they were developed. Also, their unique situation was an absolute blast.
This was an interesting and fun second instalment in this series. It was a great read on its own as well.