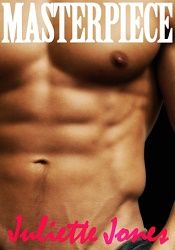 Title:
Masterpiece
Author:
Juliette Jones
Publication Date:
February 25/16
Length:
96pgs
Genre:
contemporary romance
Shelf:
review
Rating: ★★★
Book Links:
Goodreads
–
Amazon(US)
–
Amazon(CA)
Back Cover Blurb:
Max Cash is a rodeo hero from Montana with a secret talent. Max's two other, not-so-secret talents include riding bulls and providing select women of Bozeman with the kind of erotic pleasure that has made him a legend both in the ring and out of it.
Elle Parker is an art curator from New York City who's on a mission. When work takes her to Bozeman for an exhibition, she stumbles across a discovery that has the potential to change her life.
As their paths collide, Elle and Max find that each has something the other wants. But neither is about to give in easily, especially when sparks begin not just to fly but to ignite them both in ways they've never known …
*This is a sweet, sexy standalone quickie (around 90 pages). It contains insta-lust, insta-love, sex toys, a rugged alpha hottie and a sassy virgin wildcat, lots of hot sex and an over-the-top cheesy HEA (all the good stuff). No cheating, love triangles or cliffhangers.
My Review:
Jones is right. This is definitely a standalone quickie. Jones spends a great deal of time setting the scene for the story. I found that I got to know the characters remarkably well for such a short story. The 1st half of the story is developed before they even meet. Then the relationship between the main characters races forwards. It was hard to completely wrap my head around the change of pace in the middle.
This was a good story, but for me was missing that 'can't put it down' forward pull to keep reading.