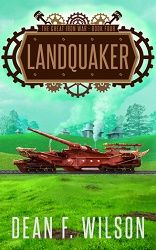 Title:
Landquaker
Series:
The Great Iron War #4
Author:
Dean F. Wilson
Publication Date:
April 17/16 by Dioscuri Press
Length:
258pgs
Genre:
steampunk dystopian
Shelf:
review
My Rating: ★★★★★ Book Links:
Goodreads
–
Amazon(US)
–
Amazon(CA)
-
B&N
Back Cover Blurb:
The Resistance has barely nursed its wounds from the recapture of Blackout, and it is now looking to another, tougher target: the massive steam-powered railway gun known as the Landquaker. They call the vast railroad the Iron Wall, and that mounted barrel is its only sentry. It does not need another.
Blackout was a sitting duck, but the Landquaker is a moving target, and not only one that shoots back, but one that shoots first. The Resistance turns to old allies and new friends, from the land-loving tribes to the land-roving biker gangs. It will need every soldier it can muster.
The Landquaker was designed with a singular purpose: a monstrous gun to hold back a multitude of monsters. Except this time the multitude mans that weapon, and in its hands the land is not the only thing that will quake.
My Review:
This series just keeps on getting better and better! Wilson never ceases to amaze me with his intricate narrative and vibrantly captivating story. The plot is action intensive, with a great deal of danger to the main characters. I loved the mix of mechanics and people. Also, the continuation of world building brought everything to the forefront for me. I enjoyed getting to know the different peoples who populate this world. The way that everything ties together was phenomenal.
Emotions run high as characters try to recover from past losses while fighting their most dangerous battle yet. Teberah's new vulnerability adds even more depth to her already intriguing character. I also like how Jacob is stepping up to the plate more and more. He's grown so much since the 1st novel, while still remaining the same loveable character who first drew me in. Wilson's intricate characters definitely capture your heart and draw you deep into this story.
Wilson brings such unique and unforgettable concepts forward in this novel. Each aspect of it piqued my interest, while the whole was something that I simply couldn't put down. But I will warn you, the ending of this novel has me on edge, counting down the days until the next novel in this series.