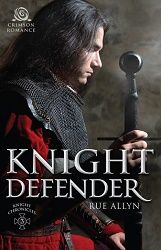 Title:
Knight Defender
Series:
Knight Chronicles #3
Author:
Rue Allyn
Publication Date:
April 25/16 by Crimson Romance
Length:
234pgs
Genre:
historical romance
Shelf:
review
My Rating: ★★★★
Book Links:
Goodreads
–
Amazon(US)
–
Amazon(CA)
-
B&N
-
Kobo
-
Indigo
-
Google Play
Back Cover Blurb:
Sent alone to Scotland to wed a wild Scot and serve the needs of her father and her king, Lady Jessamyn intends to escape the marriage and train horses for the good sisters at a nearby nunnery. But her intended is not the wild, boorish monster she imagined—just Baron Raeb MacKai, a man struggling to provide the best for his clan. It could be surprisingly easy to surrender her heart to him, until she learns his plans involve deceiving her family and attacking the king's ship that bears her brother.
Raeb is done watching everyone he loves live in poverty and despair. His betrothal to a wealthy English heiress will solve a decade of problems, and the Scots' secret plot to keep King Edward I from getting a foothold on their rugged coastline will secure his family's future. If he must deny himself the spirited woman who would warm his bed and his heart, so be it.
Neither is willing to give an inch in this clash of loyalties, but can either defend their hearts?
My Review:
Allyn takes the age old trope of a marriage of duty and makes it all her own with this enticing tale of love and acceptance. As she brings the past to life for present day readers to enjoy she weaves a fun and exciting tale where love conquers, even when it's not actually desired.
As antagonism turns to chemistry the relationship between the main characters is perpetually evolving. I had a lot of fun getting to know them as they got to know one another. I love how strong they both were. The way that they were constantly at each other's throats made me laugh as you could see the chemistry beginning to bubble under the surface.
This was a fantastic introduction to Allyn's work for me. I would definitely recommend it to others and will be delving deeper into her work in the future.