Q ~ Can you tell us a bit about yourself?
I'm a true Alaskan who enjoys everything about where I live. I spent ten years as an environmental scientist here, traveling to remote locations and villages remediating contaminated soil and water. Now I write fulltime.
I love motorcycles, four-wheeling, fishing, long walks, and reading.
Q ~ If you could have coffee (or tea) with any author, who would it be and what would you ask them? And what would you have?
Galileo Galilei. I'd have a glass of wine, cheese, grapes, and fresh bread. I'd surely ask why he gave up. Given the choice between coffee or tea; tea.
Q ~ If you could be any animal, which would you be and why?
I'm so partial to big cats, but I'd likely choose an eagle. Not only does it get to soar the skies, the Philadelphia Eagles are my end-all passion in football.
Q ~ How do you think people perceive authors?
That's a trick question, LOL. I'd say a lot of people (not readers) see us as dreamers, especially romance writers. Perhaps a little pampered and lazy.
Readers know the truth, though. And for me, that's all that matters.
Q ~ How do you feel about self-publishing? What about traditional publishing? How about walking both roads?
I'm a hybrid. Published by a top five, small press, and self published. For my career its been a blessing. I reach a wider audience and have the privilege of networking with talented authors from every background.
Q~ Who is your favorite literary villain and why?
Lucifer – from a literary standpoint, he had everything, beauty, power, and perfection.
Also, he's the archetype for all epic villains that followed.
Maleficent is another favorite of mine.
Q ~ What was the first romance novel that you ever read?
I grabbed four, random romances off a bookstore shelf four years ago after I decided to write a romance. My favorite was by Karen Marie Moning (
Beyond the Highland Mist
).
Q ~ How did you begin writing? Was there a single catalyst or a series of events?
I've been writing since I was very young. I used to pen short stories and my best friend would illustrate them, then we'd sell them for a quarter in our neighborhood (cat stories to be exact).
My favorite childhood game was playing library, so it reinforced by love for books.
Eventually I woke up and wrote my first romance three years ago and haven't stopped.
Q ~ What is one thing that you absolutely need when writing?
A computer, pen, and paper. I don't have any weird quirks or superstitions as an author. I can sit anywhere and write.
Q ~ What are your five favourite verbs to use during a love scene?
Is this a PG-rated interview? J
I'm rather naughty and simple when it comes to sex scenes. I like gritty, raw emotions.
F-bombs top the list of course (though used sparingly). Its an ancient word with an interesting history.
Caress
Spread
Lick
Taste
See, without even planning it, I practically wrote a love scene here.
Q ~ Can you tell us a little bit about your latest release & what inspired you to write it?
I've spent the last year focused on contemporary romances. Getting back to my roots and writing what really moves me, what I love best, has inspired my new bestselling Viking romance series,
Viking's Fury
.
I adore contemporary romance, but there's something about historicals that keeps me coming back.
Q ~ Do you prefer to write in a small town or big city setting? Why?
Both.
Q ~ Are you a plotter or a pantser?
Pantser.
Q ~ You've written and published multiple works. Which is your favourite and what inspired you to write it?
Blind Allegiance
(Blind Series, #1) is my first novel. So it holds a special place in my heart.
But
Love's Fury
is my favorite. The inspiration? History and Vikings.
Q ~ Do you have anything in the works at the moment? Care to give us a hint about it?
I'm working on several projects right now.
My first Highland romance (
Her Highland Rogue
) releases on June 21. I'm very excited about it. This is my favorite romance genre as a reader.
The second book in the
Viking's Fury
series,
Passion's Fury
, is under construction.
And finally, I should have an exciting announcement very soon.
Q ~ If you could give aspiring authors one piece of advice, what would it be?
Constructive criticism won't kill you; it'll make you a better writer.
About the author:
Raised in Corpus Christi, Texas, Violetta Rand spent her childhood reading, writing, and playing soccer. After meeting her husband in New England, they moved to Alaska where she studied environmental science and policy before attending graduate school. Violetta then spent nearly a decade working as a scientist, specializing in soil and water contamination and environmental assessments.
Violetta still lives in Alaska and spends her days writing romance. When she's not reading, writing, or editing, she enjoys time with her husband, pets, and friends. In her free time, she loves to hike, fish, and ride motorcycles and 4-wheelers.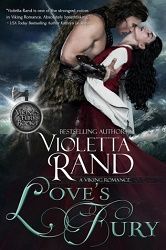 About Love's Fury
Series:
Viking's Fury #1
Publication Date:
April 19/16 by Dragonblade Publishing
Length:
130pgs
Genre:
historical romance
Book Links:
my review
-
Goodreads
–
Amazon(US)
–
Amazon(CA)
Back Cover Blurb:
Caught between duty and passion…
After losing a drinking wager with his eldest brother, Konal the Red finds himself drafted by the Danish prince and fighting in Northumbria. Once his military contract expires, he intends to return to Norway where he belongs. But his exploits have earned him respect, lands, and a few enemies. Rewarded with a Saxon beauty who inspires more than simple passion, he's determined to win her trust and body.
Caught between a heart locked on revenge and seduction…
Silvia, the only child of the church undersecretary, vows to avenge her beloved father after he's killed in a siege. It doesn't matter which Viking wielded the axe—an eye for an eye is the only thing that will satisfy her. When Konal claims her as a spoil of war, she sees it as the perfect opportunity for revenge. She never expects to discover a pure heart buried beneath Konal's barbaric exterior.
As Konal slowly rekindles a spark of life inside her, their fates become hopelessly entwined. Not only must they withstand the violence of the envious lust-mongers who threaten them, Konal and Silvia must choose what's most important—tradition or love that cannot be denied.