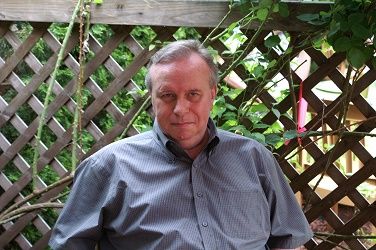 Q ~ Can you tell us a bit about yourself?
I'm not sure what your readers would like to know. I was born in Italy and grew up to shopkeeper parents in the Berkshires in Massachusetts. I've always held a job and raised a family in the traditional sense like millions of other baby boomers, and I did not start writing until later in life. I've been doing it now for about twenty years. What's the old saying? It takes twenty years to be an overnight sensation. Hopefully my time has come. I've gotten great reaction to my five novels, and I've got two more on the way.
Q ~ What do you like to do when you're not writing?
I have my own practice as a business consultant and I work with business owners to help them grow strategically and by intent. I also do a lot of work in behavioral assessments and personality profiles. As for hobbies, gardening and cooking are probably my top at-home activities. I love baseball, and I play a not-too-bad 12-bar blues on my Stratocaster.
Q ~ If you could have lunch with one person, dead, alive, or imaginary, who would it be and why?
Hmmm. You'd think it would be someone really famous, but for me I think it would be one of my high school and college classmates who went on to be very successful in business and, by all outward appearances, in his family life as well. I've often wondered if people who got to be successful in this way did it by intent—meaning that they made a plan on how to achieve such success and went after it, step by step—or if they simply did the best they could and happened to be in the right place at the right time and took advantage of situations as they saw them.
Q ~ What are you currently reading?
The Target
, by David Baldacci
Q ~ Are there any new Authors that have grasped your interest recently and why?
I recently read
Dead Men
by Mette Glargaard. We hooked up through Goodreads and she asked if we would do mutual reviews of each other's books. I didn't know what to expect, as I usually read mystery/suspense type books, and this was an extremely in depth psychological examination of the mind of a female serial killer who stalked and killed abusive men, including her own husbands (plural). I found the writing style intriguing in a couple of different ways and am trying to find a situation in my own writing where I can learn from it—okay, where I can steal it.
Q ~ How did you begin writing? Was there a single catalyst or a series of events?
I began writing because I was working for a friend who owned an advertising agency, and he needed someone to write some copy for radio commercials. I gave him a couple of samples and he thought the copy was fine, and he hired me and gave me my first desktop computer so that we could send work back and forth via telefax (I think it was called in those days). Anyway, I had to learn how to use a word processing program called MacWrite, which I had no idea how to use. As such, I started writing a story, which eventually turned out to be my first book titled
Porchball
. Go figure, right?
Q ~ What's the best thing that's happened since you began writing? The worst?
The best is that I found out that I'm good at it, and now have something I have a passion for and would enjoy doing the rest of my life. A lot of people have never found something they are passionate about and are not so lucky. The worst is that I've discovered that the writing business is full of people who prey on writers and rip them off, and also full of so-called experts who really don't know any more about writing a good story than I do. A lot of talented writers have probably stopped writing because of this.
Q ~ What are your biggest influences in life? Who are your biggest supporters?
Without a doubt it's been my wife. She's encouraged me all the way in my writing and continues to do so to this day. I don't think I could have written as many books as I have without her influence and support.
Q ~ Why did you choose to write mystery as your primary genre?
I like the idea of putting out a lot of seemingly disconnected ideas and events like putting them into the top of funnel. In the beginning, the reader may have no idea how these scenes and sequels are connected, but as the book progresses, little by little, these dozens of disconnected acts come together into a logically constructed climax. I think plot construction is one of the things my readers enjoy, or at least I've been told that.
Q ~ Do you prefer to write in a small town or big city setting? Why?
I've done both, and I have no real preference. Either setting can be complicated and filled with suspense, and character complexity can also be developed in either setting.
Q ~ Can you tell us a little bit about your latest release and what inspired you to write it?
My latest release is
Lost Friday
which opens thusly: It's a regular Thursday night in Sea Beach, New Jersey, which is a typical Jersey Shore small town that has thousands of beach goers and partiers in the summer and only a couple of thousand permanent residents in the off season. Well, one Thursday night in this off season, the residents go through their normal Thursday night off season activities, e.g., come home from school, or work, have some dinner, watch a little football, go to bed, yadda, yadda. The next morning, everyone gets up and goes through their normal Friday morning routines, except that it's not Friday, September 24th, it's Saturday, September 25th, and the entire town—and only the town of Sea Beach, New Jersey—loses an entire day. As such, at the end of the very first chapter the reader is left thinking: what the hell happened to Friday? and hence the title Lost Friday.
What inspired me to write it? As a father and son bonding thing, I asked my son to help me come up with a plot, and if we came up with one together, I would write a book around it.
Q ~ What was the most difficult part of the process while writing it?
Time. It's the most difficult part for me in writing any book. Time. I work for a living.
Q ~ What characters did you find yourself especially drawn to and why?
For me, I'm drawn to characters that are just everyday people, people who could be your next door neighbor, or perhaps they could be you. All of my heroes are just regular people who often through no doing of their own, find themselves in circumstances where they have to do heroic things to save themselves, or to save someone they love, or both. Every main character in my books has this characteristic in common, and they all rise to the occasion to save their own little world, whatever that world may be to them. I'm also drawn to smart-ass, sarcastic type characters who often end up being the female love interests in my books. I wonder why that is.
Q ~ Do you have anything in the works at the moment? Care to give us a hint about it?
Yes, I'm in the middle of writing
The Brothers
, which is the story of a group of fraternity brothers who attend their thirtieth college reunion, and one of them turns up dead. The medical examiner rules that the death is by natural causes and that there is no reason to suspect suspicious activity, and as such the district attorney sees no reason to start an investigation. The brothers, and one brother in particular, think that's bullshit and determine that if the DA and the police won't find out who killed their fraternity brother, they will. The plot goes deep, involving entities like the CIA, U.S. Treasury anti-terrorist agents, international terrorists, etc.
Q ~ What advice would you give to an aspiring writer?
Do it if you enjoy it, but not if you're intent on making a living at it. The odds are quite long, but it is possible if the stars and the planets all line up for you. Remember, it takes twenty years to be an overnight sensation.
About the author:
Michael Bronte is a graduate of Union College in Schenectady, New York, and George Washington University in Washington, D.C., and lives with his wife of 35 years in Gaithersburg, Maryland. "All of the heroes in my novels are everyday people," says Bronte. "Any of them could by your next door neighbor. None of us really know what we're capable of until the time comes for us to reach beyond the boundaries of our everyday lives. Remarkable feats of courage are performed everyday, by everyday people. It's amazing."
​ As a young teenager I remember reading paperback mysteries under a huge oak tree outside my parents' neighborhood grocery store in Dalton, Massachusetts, a small town located in the heart of the Berkshires. I can recall pulling a book from the rack and getting locked in to those novels as the fragrant summer breeze of Berkshire County tried to turn the page before I was done reading it. I don't know why, but I was greatly affected by a book titled The Fan Club, by Irving Wallace. When I was done reading it, I can still recall thinking that someday I'd be able to write a book like that on my own; I knew I could do it.
Well, the idea stayed dormant for over thirty years while I did what I thought I should have been doing for a living (looking back, it all seems so trivial sometimes) until I rekindled my infatuation with writing novels. Now, many years after that, and many mistakes and many failures later, there are five Michael Bronte novels available. They are: The Dealership, Presidential Risk, Porchball, The Tenth Caller, and Lost Friday.
Links:
website
-
Goodreads
-
Amazon author page
-
Smashwords author page
-
Facebook
About Lost Friday:
It's Saturday, Sept. 25th, and an entire town has no memory of what happened to Friday. In the future, time travel becomes the ultimate weapon, enabling those who control it to manipulate history. Reporter Johnny Pappas is among the baffled residents, as is police chief Roy Mulroney. It's only when Johnny discovers the abduction of high school quarterback David Robelle that the fog over this mystery begins to lift.
The evidence leads to the unfathomable conclusion that they've been visited by futuristic time travelers from the International Counter Terrorist Organization, or the ICTO. In the future, time travel becomes a huge geopolitical weapon, enabling those who control the technology to go back in time and manipulate history so that important historical outcomes fall to their favor. The influence extends all the way to the White House.
Time travel, human clones called Synthetics, editions of newspapers that haven't even been written yet, it's all part of Lost Friday. Johnny has three objectives: cover the story as a reporter, win the romantic attention of fellow reporter Kelli Remington, and rescue David Robelle from the terrorists. Oh yeah, he'd also like to win a Pulitzer.