Title:
Ha'ven's Song
Series:
Curizan Warriors #1
Author:
S.E. Smith
Publication Date:
November 21/13
Length:
309pgs
Genre:
SciFi Romance
Shelf:
own
Rating: ★★★★★
Book Links:
Goodreads
–
Amazon(US)
–
Amazon(CA)
-
B&N
-
Kobo
-
Indigo
-
Google Play
–
Smashwords
Back Cover Blurb:
Ha'ven Ha'darra is the Crown Prince of the Curizans, an advanced species known for their technology. They may not have the power to shift like the Valdier or the Sarafin but they have hidden powers of their own that they closely guard. Not even his best friends, Creon Reykill of the Valdier or Vox d'Rojah of the Sarafin, are aware of the powers he holds within his deadly frame.

Ha'ven is happy to help out his Valdier friend when he calls. There are only two things that satisfy the restlessness inside him – a good fight and an even better evening with a hot, willing female. He has no desire to settle down like his two friends have. He enjoys having his freedom and the wide sample of females at his disposal.

All of that changes when he catches a glimpse of the delicate beauty who looks through him as if he doesn't even exist. His blood calls to her, his magic aches to meld with hers, but she blocks his every advance.

Emma Watson's life was perfect. Her love for music and dance let her escape the overwhelming shyness that she suffered from all her life. When she is invited to travel with a group to promote music and dance for children in South America, she believes it is the perfect chance to discover who she can really be. Everything changes when she is kidnapped by a powerful drug lord. Beaten and forced to watch the torture and murder of other women, she withdraws into the world she feels safest – the one inside herself.

When she is rescued by creatures not of this world, they heal her physical wounds but cannot touch the ones deep inside her. She has given up on ever returning to her world and has little hope for the future. That is why she does not understand why one aggravating male suddenly won't leave her alone. She wants nothing to do with men! They cause nothing but heartache and pain. She had been on the receiving end of their fists often enough to know that! Why would she want one that could crush her with one hand?

No woman has ever turned Ha'ven Ha'darra down and he isn't about to accept his mate doing it. He will show her that not all men are the same, even if he has to kidnap her and take her to his world to do it. He plans to show her the power she has hidden deep inside her and open her heart to the love he has in his.
Now, he just has a few extra problems to overcome. Her Valdier protectors have given him six months to change her mind about wanting to return to them, a traitor is trying to kill them both, and they have crashed on a remote moon.

Can he unlock her magic in time to save their love or will the traitor, determined to kill them, destroy her before he can?
My Review:
What an introduction to this series! Smith balances action with romance and all the steamy encounters you could desire. It's the perfect SciFi story – enough realism to make it plausible and the intergalactic adventure of a lifetime. I loved the way that the backstory is all pulled together. It was fascinating, simultaneously building the world, introducing readers to an entirely new culture and civilization, while also forming a connection with the characters. Smith's indepth and fascinating world building had me wanting to travel to Curizan posthaste. I loved getting to know the Curizan powers and what they involve. The mix of magic and technology was fascinating. I thoroughly enjoyed the myths surrounding the Goddess and how they play into everyday life.
I loved the deeper look at Ha'ven's character throughout the novel. He's both complex and completely straightforward. The way that Ha'ven's powers were developed made them so very real for me. I loved seeing Emma's growth and recovery. Not only were these two a fun pair to get to know, but I felt emotionally connected to them from the get-go.
Ha'ven's Song might just be the most beautiful thing I've ever experienced. And I'll admit, it's left me dying for Adalard's story. He's almost as much fun as the main characters.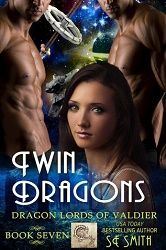 Title:
Twin Dragons
Series:
The Dragon Lords of Valdier #7
Author:
S.E. Smith
Publication Date:
September 16/14
Length:
390pgs
Genre:
SciFi Romance
Shelf:
own
Rating: ★★★★★ Book Links:
Goodreads
–
Amazon(US)
–
Amazon(CA)
-
B&N
-
Kobo
-
Indigo
-
Google Play
–
Smashwords
-
Audible
Back Cover Blurb:
Melina Franklin was barely sixteen when she and her grandfather were kidnapped from their small farm in Georgia by an alien trader and sold to an Antrox mining asteroid in deep space. Mistaken for a young boy, she lives in fear of being found out and sold. Her only companionship for the next four years is her grandfather and the Pactors, the large creatures used for hauling the mining ore, that she takes care of. She dreams of the day when she and her grandfather will somehow escape and return home to the rolling green hills of their farm.
Calo and Cree Aryeh have been secured as the personal guards for Creon Reykill's mate, Carmen Walker. The twin brothers are a rare species of dragon known for their fierceness in battle. Born to the mystic dragon clan of the Northern Mountains, they have given their allegiance to the Dragon Lords vowing to serve and protect the royal family and their new true mates. The brothers know they will never be able to have a true mate of their own. Never in the history of their clan have twin dragons been able to find a mate capable of handling two male dragons. They can only hope that they die in battle so they are not destined to be caged when the loneliness eventually drives their dragons insane.
The twin dragons are confused when two humans are discovered on an abandoned asteroid mine. The old man and his grandson appear normal enough, but their dragons and their symbiots are driving them crazy, insisting the boy is their true mate. Neither knows how to handle the other two parts of themselves or their need to remain close to the boy. On top of that, the young human male refuses to have anything to do with either of them. He hides and avoids them every time they get near him.
Things become clearer when they discover Mel is really Melina. Unfortunately, finding out their true mate is really a woman does little to change her feelings toward them. She is even more determined to return to her world. When her wish comes true, the brothers know they have no choice but to kidnap her and hide her away. Can they convince her to give them a chance at happiness or will she seek protection from the royal family they have vowed to serve? If that is not bad enough, there is another who has his eye on their mate and will do whatever is necessary to keep her – including killing the twin dragons who have claimed her first.
My Review:
This story was fantastic. Smith had me crying one moment and rolling on the floor laughing with the turn of a page. The writing was vibrant and fun, while also eloquent and easy to follow. The plot has it all: love, loss, danger, adventure, and enough chemistry to make your pages sizzle. This is all set in a well-developed world that I don't simply enjoy reading about, but that I'm dying to move to.
I simply couldn't imagine being a Valdier twin. I couldn't picture living assuming that I had a death sentence over my head simply for being born. And then to find out that your only possible salvation is something that you can't quite wrap your mind around? Fate was definitely playing with Cree and Calo here. And Aikaterina's admission that she may have overlooked something? Yeah, that made her an even better goddess in my books. Top this all of with Mel's winning personality and her internal struggle between what she feels she should do and what she needs for herself and you have a cast of characters you simply won't be able to get enough of.
Smith has once again created a completely unforgettable tale. It is a must read for anyone who enjoys shifters, SciFi, or just some good old romance.