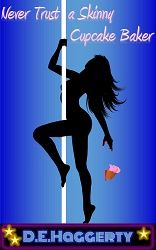 How I found Callie's voice by D.E. Haggerty
Callie, the heroine from
Never Trust a Skinny Cupcake Baker
, is a nerd with a capital N. Seriously, she likes to read German literature in German in her spare time. How in the world does a writer go about creating a character who is, well, so nerdy? And I was bound and determined for Callie to be a nerd. The entire premise of the book was based on the idea but, after having written 30,000 words in the book, Callie was looking like anything but a nerd. In fact, she was flat as a pancake (because I'm a complete disaster at making fluffy, scrumptious pancakes).
Why in the world was this so difficult? Although I'm not a nerd with a capital N, my classmates from law school will definitely attest to my nerdiness. There may even be some who claim that I am in fact the queen of the nerds. True story. *Rolls eyes* Maybe I could incorporate my alleged nerdiness into Callie's character? I started examining the 'strange' things I do which some may find nerdy. (Ahem, you know who you are.)
Here are the few things I did, which may be (mis)construed as nerdy:
I was drinking beer on our balcony with some friends and someone asked a question about Christianity in Istanbul. I then went on to explain for several awkward minutes the split of the Roman Catholic Church with the Orthodox Church and Istanbul's part in that. I probably should have shut my mouth when everyone's eyes started to glaze over.
I saw a picture of a friend holding a bottle of Champagne on Facebook except the label of the bottle indicated it was from California. Well, that can't be right. Champagne is a protected name and only sparkling wine from the region of Champagne in France, which is processed in a certain manner, can use the name. Of course, I couldn't let such blatant disregard for facts go. I could probably write a book entitled 'How to lose friends on Facebook'
My husband made a comment about the German Reinheitsgebot (the beer purity law) and I had to (because I obviously can't help myself) explain to him how the European Union has forced Germany to make concessions in the law.
Based on the examination of my obviously big mouth and social awkwardness, I realized I was always correcting someone and explaining something even though my comments weren't exactly welcome. Oops! Anyway, that's how I came up with the most important aspect of Callie's nerdy personality: her tendency to spout trivia at the oddest of moments – mostly when she's super nervous. Example? The man she's crushing on walks in and is looking mighty fine in a suit and tie. Instead of telling him he looks handsome, poor Callie starts to spew trivia about the history of neckties. See? Total nerd. After adding Callie's obsession with trivia to her personality, her nerdiness just seemed to come together without much finagling on my part.
But don't be confused. Just because I used my own nerdiness to help me find Callie's voice doesn't mean Callie turned out just like me. Nope. She's way cooler.
I grew up reading everything I could get my hands on from my mom's Harlequin romances to Nancy Drew to Little Women. When I wasn't flipping pages in a library book, I was penning horrendous poems, writing songs no one should ever sing, or drafting stories which have thankfully been destroyed. College and a stint in the U.S. Army came along, robbing me of free time to write and read, although I did manage every once in a while to sneak a book into my rucksack between rolled up socks, MRIs, t-shirts, and cold weather gear. A few years into my legal career, I was exhausted, fed up, and just plain done. I quit my job and sat down to write a manuscript, which I promptly hid in the attic after returning to the law. Another job change, this time from lawyer to B&B owner and I was again fed up and ready to scream I quit, which is incredibly difficult when you own the business. Thus, I shut the B&B during the week and in the off-season and started writing. Several books later I find myself in Istanbul writing full-time.
Author links:
Website
-
Blog
-
Facebook
-
Twitter
-
Google+
-
Pinterest
-
Goodreads
-
Amazon
-
Email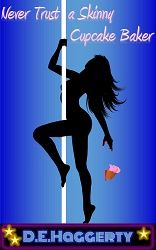 About Never Trust a Skinny Cupcake Baker:
A mystery with a heap of laughs, a generous portion of romance, and just a smidgeon of suspense.
Callie's life is rather awesome. She owns a successful bakery and teaches German literature at the local university. There's just one tiny problem. She has no self-confidence when it comes to her body. And then there's the little matter of her being accused of murdering her pole dancing instructor. There's no way Callie's going to risk losing her teaching position and thus she embarks, with her best baker bud Anna, on a journey to discover the real killer. Between stripper auditions and a detective who insists Callie is the woman of his dreams, it's a roller coaster adventure. Cupcakes not included.