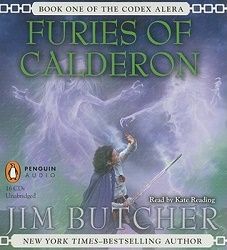 Title:
Furies of Calderon
Series:
The Codex Alera #1
Author:
Jim Butcher
Publication Date:
November 26/08 by Penguin Audio (1st published October 5/04)
Length:
460pgs
Genre:
fantasy
Shelf:
borrowed
My Rating: ★★★★ Book Links:
Goodreads
–
Amazon(US)
–
Amazon(CA)
-
B&N
-
Kobo
-
Indigo
-
Google Play
–
Audible
Back Cover Blurb:
For a thousand years, the people of Alera have united against the aggressive and threatening races that inhabit the world, using their unique bond with the furies - elementals of earth, air, fire, water, and metal. But now, Gaius Sextus, First Lord of Alera, grows old and lacks an heir. Ambitious High Lords plot and maneuver to place their Houses in positions of power, and a war of succession looms on the horizon." "Far from city politics in the Calderon Valley, the boy Tavi struggles with his lack of furycrafting. At fifteen, he has no wind fury to help him fly, no fire fury to light his lamps. Yet as the Alerans' most savage enemy - the Marat - return to the Valley, he will discover that his destiny is much greater than he could ever imagine." Caught in a storm of deadly wind furies, Tavi saves the life of a runaway slave named Amara. But she is actually a spy for Gaius Sextus, sent to the Valley to gather intelligence on traitors to the Crown, who may be in league with the barbaric Marat horde. And when the Valley erupts in chaos - when rebels war with loyalists and furies clash with furies - Amara will find Tavi's courage and resourcefulness to be a power greater than any fury - one that could turn the tides of war.
My Review:
What a magical tale. Butcher had me captivated from cover to cover. I enjoyed the different concepts of magic that Butcher presents and how the furies were developed. It was so unique and really captivated me. His in-depth development of this world doesn't stop with simply the magical aspects. Everything was well presented in a manner that not only drew me in but also helped me understand the way that the world itself works.
The fantastically complex intertwining plot lines and journeys for all of the different characters was a pleasure to read. I got to know everyone well and felt as if I were invited into their lives. I also enjoyed the way that the overlapping stories are presented with the overlapping timelines so that readers get a full sense of everything that's going on.
This is definitely a series that I'll be avidly following in the future. It was so much fun and the world that Butcher has created has me utterly captivated.