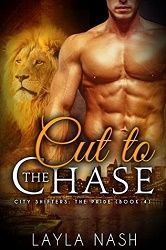 Title:
Cut to the Chase
Series:
City Shifters: The Pride #4
Author:
Layla Nash
Publication Date:
October 21/15
Length:
148pgs
Genre:
paranormal romance
Shelf:
review
Rating: ★★★★ Book Links:
Goodreads
–
Amazon(US)
–
Amazon(CA)

Back Cover Blurb:
Ruby O'Shea gives the orders in her pack. And when a rival alpha propositions her with a marriage of convenience at the cost of her power, she rejects him. Happily ever after might not be in her cards, but she refuses to give up her power, her pack, and everything else she's worked for. Unfortunately, the other alpha doesn't take rejection well, and prepares to destroy Ruby and her pack.
Carter Chase knows Ruby is his mate, and he'd do anything for her. Except she's practically allergic to asking for help of any kind. Ruby willingly submits in his bedroom, but in public she pretends there's nothing between them. Carter's lion is ready to tear the city apart to prove their devotion, but when Ruby thinks he interferes with the rival wolf pack, she walks away for good.
Ruby knows she's meant to be with Carter. She aches for him. But she's worked her entire life to be alpha, and she won't give that up. Even for true love. Can she relinquish enough control, and trust him enough, to cut to the chase and find their happily ever after?
My Review:
What a fun & exciting look at the life of city shifters. Nash has developed some interesting dynamics between the different shifter groups in this novel. Each stands on its own yet the entire shifter community still comes together as one at times. This creates an intriguing backdrop for the plot that Nash brings forward. Her vibrant descriptions bring things to life as the spicy yet difficult relationship between the main characters blossoms.
I loved the dynamic between the main characters in this novel. It was such an ever-changing thing that you could really feel the realism on top. Powerplay and equality both play an important role. The supporting characters were also a lot of fun to get to know. This is one of those novels that can easily be read on its own but for the full context on all of the supporting characters and their pasts, the previous novels in the series would come in handy.
As a whole, this was a very enjoyable read. It has definitely sparked my interest in this series & this author's work at large.