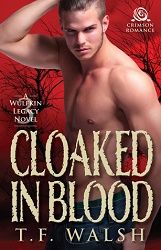 Title:
Cloaked in Blood
Series:
Wulfkin Legacies #3
Author:
TF Walsh
Publication Date:
May 9/16 by Crimson Romance
Length:
270pgs
Genre:
paranormal romance
Shelf:
review
My Rating: ★★★★★
Book Links:
Goodreads
–
Amazon(US)
–
Amazon(CA)
-
B&N
-
Kobo
-
Indigo
-
Google Play
Back Cover Blurb:
The daughter of a sultan alpha, Selena Kurt agrees to an arranged wulfkin mating to protect her sister from a dangerous alpha from the enemy clan. To her surprise, her match is Marcin Ulf, the next in line for the Hungarian throne…and the wulfkin who broke her heart years ago.
Marcin is just as shocked to learn he'll be matched to the enemy's daughter and the woman he's never forgotten. Before they can be paired, however, they're drawn into a tournament where Marcin will compete to free his estranged imprisoned brother, while Selena battles for the life of another wulfkin alpha. Both intend to seize this chance to save those they're fighting for—even if it means facing off with one another just as their romance rekindles.
Will tribe loyalty triumph, or will they realize they're better off as a team before it's too late?
My Review:
Fantastically vibrant and in-depth world building and an unforgettable plot combine in this fantastic novel to create a tale that held my interest throughout. Walsh brings everything to life for me in a big way, painting it with her words. Walsh's straightforward writing brings this unique perspective to the paranormal romance genre. At the same time, her solidly crafted plot kept me on my toes throughout. It is a uniquely original plot that combines the best of the supernatural with something completely her own. Her writing really underlines the suspense of the tale, and the dark vibe that seems to run through the world, giving me chills while also keeping me guessing.
The realism of characters in Walsh's novels always set them apart from the masses for me. This novel is no exception. I enjoyed the fact that they are likeable and also less than perfect. Their humanity shines through as much as their 'otherness' does. Walsh's unique take on what it is to be a shifter, and especially a wulfkin is intrinsic to who her characters are. These are the type of charcters that readers must experience firsthand.
As a whole this was an absolutely captivating novel. Walsh still takes the paranormal romance genre and creates a unique novel within it that both stands out while still fitting in perfectly. This is a must read for lovers of all things shifter.
And now, enter to win in this fantastic giveaway with author TF Walsh
Prizes include a $5 Amazon voucher & 2 swag packs (beaded bookmark, wolf laptop decal sticker, TF Walsh autograph card)
Contest is open internationally, where applicable by law.
Entries close at 11:59pm June 10/16.
Winners will be drawn June 11/16.
Winners will be notified via email to the email provided to the giveaway and will have 72h to claim their prize or another winner will be drawn.