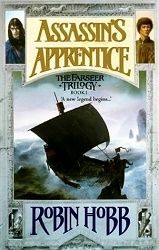 Title:
Assassin's Apprentice
Series:
The Farseer Trilogy #1
Author:
Robin Hobb
Publication Date:
March 1/96 by Voyager
Length:
480pgs
Genre:
fantasy
Shelf:
Borrowed
My Rating: ★★★★★
Book Links:
Goodreads
–
Amazon(US)
–
Amazon(CA)
-
B&N
-
Kobo
-
Indigo
-
Google Play
–
Audible
Back Cover Blurb:
In a faraway land where members of the royal family are named for the virtues they embody, one young boy will become a walking enigma.
Born on the wrong side of the sheets, Fitz, son of Chivalry Farseer, is a royal bastard, cast out into the world, friendless and lonely. Only his magical link with animals - the old art known as the Wit - gives him solace and companionship. But the Wit, if used too often, is a perilous magic, and one abhorred by the nobility.
So when Fitz is finally adopted into the royal household, he must give up his old ways and embrace a new life of weaponry, scribing, courtly manners; and how to kill a man secretly, as he trains to become a royal assassin.
My Review:
Hobbs' in-depth storytelling and world building brought this novel to life in a very big way. Being told in retrospective gives a unique perspective to the entire world. This author isn't afraid to shock his readers. The introspective feel of the novel really made me think.
The 1st person narrative is well done and gives a very personal feel to the tale. The sense that Fitz is telling the story of his past gave a uniquely captivating feel to the novel. It made it very easy to identify with and connect with the main character.
I love the characters names in this story. They're so simple yet perfect for each individual. They allowed me to keep up with all of the secondary characters. In fact, the entire cast was very well developed. I enjoyed getting to know each individual, finding out their good parts, and the bad. Everyone was so dynamic.
I love the voice that this author writes in. She kept me hooked from cover to cover and dying for the next novel. I can't wait to read more from this fantastic author.