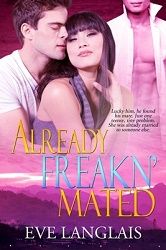 Title:
Already Freakn' Mated
Series:
Freakn' Shifters #3
Author:
Eve Langlais
Publication Date:
October 2/12
Length:
290pgs
Genre:
Paranormal romance
Shelf:
own
My Rating: ★★★★
Book Links:
Goodreads
–
Amazon(US)
–
Amazon(CA)
-
B&N
-
Kobo
-
Indigo
-
Google Play
–
Smashwords
-
Audible
Back Cover Blurb:
Lucky him, he found his mate. Just one teensy, tiny problem. She was already married to someone else.
Meeting the woman of his dreams would have worked a lot better if she didn't already belong to another man. But Chris wasn't about to let something like 'until death do us part' keep him from claiming his woman. He'll do anything to win his mate, including throwing his attractive cousin at the pesky husband.
Despite the danger, and her marital status, Jiao can't help falling for a handsome wolf. Honor says she should stay away, but her curious inner cat is flexing her claws and demanding they claim their man.
But Jiao isn't the only one falling in love. When her husband finds himself head over heels with a she-wolf, will Sheng do the right thing and end the marriage sham? Or will the past catch up first and bite them?
My Review:
Langlais' snarky and fun writing shines here as chemistry rules the day and mating fevers take over. Plot twists galore kept me on my toes throughout this novel. There were more than a few 'didn't see that coming' moments. The intricate storytelling brought it all together in a manner that highlighted the budding romance and the lurking problems facing these characters.
The intricate yet seemingly twisted relationship between the four main characters kept me on my toes throughout. Sheng's over-the-top personality made it really easy to grasp the severity of their situation. Chris' desire to do right yet being caught up in his needs was priceless. I felt so close to these characters as Langlais developed their situations. When everything came to a head I couldn't help but laugh and sigh in relief.
Once again Langlais has created a tale that was suspenseful, funny, and oh so very hot. It was a brilliant read that not only held my attention but also further developed her world of the shifters.