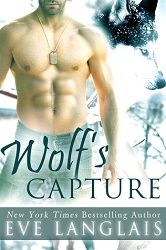 Title:
Wolf's Capture
Series:
Kodiak Point #4
Author:
Eve Langlais
Publication Date:
January 6/15
Length:
230pgs
Genre:
paranormal romance
Shelf:
own
Rating: ★★★★★
Book Links:
Goodreads
–
Amazon(US)
–
Amazon(CA)
-
B&N
-
Kobo
-
Indigo
-
Google Play
–
Smashwords
-
Audible
Back Cover Blurb:
She might think she's captured the wolf, but in the end, he'll take her heart.
Brody is a soldier who misses the excitement of the military and its missions. He retired to work as clan beta in Kodiak Point. Talk about boring, until he's captured by a foreign enemy.
Him, a prisoner?
Not for long. This wolf will do anything in order to get away–even if it involves seduction.
First step in plotting his escape: pretend interest in a woman. But Layla isn't just any woman. She's special.
Not human. Not shifter. He doesn't know what this exotic lady is other than his.
A prisoner for years, Layla isn't sure what to make of the enemy who shares a cell with her. He promises her hope, but that would involve trust. Despite her doubts, she can't help but be drawn to him. Unacceptable which means she does her best to drive him nuts.
Working together, can they escape the clutches of the enemy?
And do they dare fall in love?
Welcome to Kodiak Point, where the wildlife might wear clothes, but animal instinct rules the heart.
My Review:
Langlais makes the most ridiculous of situations seem not just possible, but completely and utterly plausible. She makes romance fun, real, and more than just a little quirky. The fast paced and suspenseful plot was well balanced with the joys of life and intricately crafted characters. I like how she works what it means to be a shifter right into the story rather than as something forced in or left to chance.
Brody was priceless. His inner monologue was brilliant. I love the different personalities between him and his wolf. They were a lot of fun to get to know. Layla's otherness made her something special. Not human, but not shifter, she was still a fantastic match for Brody's bossy yet fun personality. Langlais backs these two up with a fantastic cast of characters that I've come to know and love throughout the series.
Once again Langlais has created a fun filled and fantastic paranormal romance that readers are bound to love. I love the balance of fun and suspense, the real and the paranormal, altogether creating an unforgettable read.
Title:
Grizzly Lovc
Series:
Kodiak Point #5
Author:
Eve Langalis
Publication Date:
February 17/15
Length:
174pgs
Genre:
paranormal romance
Shelf:
own
Rating: ★★★★★ Book Links:
Goodreads
–
Amazon(US)
–
Amazon(CA)
-
B&N
-
Kobo
-
Indigo
-
Google Play
–
Smashwords
-
Audible
Back Cover Blurb:
Are you ready for a grizzly kind of love?
His mother would have beaten him to within an inch of his life, if she knew Travis had the hots for the town doctor, but he couldn't help it.
Dr. Jess, a redhead with a few years on him, was his soulmate. His inner grizzly knew it. He knew it. Suspected she did as well. But he did have one dilemma standing in his way.
Her husband.
Talk about inconvenient.
Good thing Travis was tenacious. Even if he has to travel half a continent, and brave some hot sands, subsist on crappy food and survive attempts on his life he won't give up until he wins her heart.
Or dies trying.
Jess made a mistake. She married too young, to the wrong man. Problem is, hawks mate for life, and murder is against the law. To add more insult to the situation, her mate won't even attempt to be a husband. It seems he isn't interested in keeping his vows, nor is he coming home anytime soon, so when the chance arises to confront him, she takes it. However facing him changes nothing.
Freddie doesn't want her...but Travis does.
And oh how she wants him too. Wants and yet can't have him.
However, her marital problems aren't the only issue. Their pursuit of the nefarious being behind the attacks on their town is being sabotaged by treachery. When Jess and Travis barely survive an ambush, she can no longer deny her love for the rascally bear. But will they survive enough to see if it's possible for her to rectify a wrong and take him as her mate?
My Review:
Ok, this may just be the best novel in this series. Langlais' wildly imaginative plot was both fast paced and compelling. It was a plot full of suspense and intrigue that kept me on my toes. Vivid descriptions bring the vastly different locales to life while highlighting the dangers faced.
I enjoy how the shifters are all one people but yet there are differences between the different castes. Langlais' vividly real characters definitely catch your attention. The larger than life personalities make them impossible to walk away from. I loved how there was so much more to Travis than meets the eye. His cunning and brains were a fantastic counterpoint to his carefree and fun loving attitude. I also appreciated how his caring and compassionate attitude had Jess questioning her long held beliefs, going after what is right for her.
This was a fantastic conclusion to Langlais' Kodiak Point series, bringing everything to a satisfying conclusion without making it too perfect.