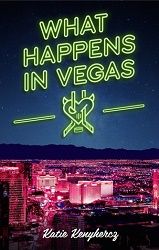 Title:
What Happens in Vegas
Series:
Las Vegas Sinners #6
Author:
Katie Kenyhercz
Publication Date:
March 28/16
Length:
80pgs
Genre:
contemporary romance
Shelf:
review
Rating: ★★★★
Back Cover Blurb:
Life in Las Vegas is changing for the Sinners family in a big way. When Carter Phlynn gets an offer to coach for Pittsburgh, he ignores it. Until his wife finds the letter. No stranger to sacrificing for the ones she loves, Jacey isn't about to let her retired hockey player husband fade away in upper management when his heart is still on the ice, but encouraging him to follow his dream means walking away from hers--the hockey team she inherited from her father and raised from obscurity to the sport's highest honor.
Sinners goalie, Shane Reese, grew up with Carter. The move could mean growing apart from the man who'd been his brother. As one of the team's sport psychologists, Allie Kallen-Reese faces potentially losing her job if new ownership decides they don't need her, but her biggest struggle is opening up and letting her husband shoulder some of her worries--one skill she's never fully developed.
Jacey's brother, Madden Vaughn, left the Sinners organization to launch a financial planning business that found much success, but family has always been the most important thing to him. He's been engaged to Saralynn Reese, head of Sinners PR, for two years but every time he tries to make plans, she claims it's not a good time. If he wants Jacey to be at the wedding, he'll have to act fast, but Saralynn has a lifetime of commitment issues to contend with.
Dylan Cole, young captain of the Sinners, is due for a contract renewal, but after a less-than-impressive few seasons, new ownership might easily trade him to land a different player. Las Vegas had become a home he shared with Lori Kelly, his Olympic figure skater girlfriend. They trained on the same ice, lived in the same apartment, and shared the same goals for the future. But Lori's last chance at a gold medal depends on the money she makes starring in Sin City on Ice. If he got traded, would she follow?
Grayson Gunn left his hockey career on a high note and took a job as an assistant coach for the Sinners. A head coach offer from the Carson City Saints, the Sinners minor league affiliate, has him thinking. If only it didn't mean moving seven hours away from the love of his life. As the Sinners' assistant physician, Olivia Parker is tied to the team whether it stays in Vegas or moves out of state. Things have been better than ever with Grayson, but could she give up her dream to follow him and his?
Sin City is about to get seriously complicated.
My Review:
This novella was a neat look at where everyone is now. It also serves to highlight just how closely linked the Sinners are. Kenyhercz writes this story with the same fun and heartfelt style that I've come to love her for. I loved going back and finding out what the next step was in each of their stories. Each interlude was endearing in its own right. Emotions ran high throughout. I felt as if I were part of the characters' lives.
I would suggest that you read the rest of the series for the tale to have the full impact. Kenyhercz draws in characters from past novels in the series, and if you've yet to meet them the connection to them will be missing. She introduces them well for a short story, but there's just so much more to these fantastic individuals that make this tale even more endearing as they shine.
Once again Kenyhercz has created a compelling story that brings hockey and its players to life in a fun & approachable manner. And she's left me hoping that I'm not imagining the hint of a spin-off series at the end!
Book Links