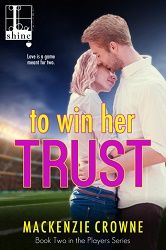 Title:
To Win Her Trust
Series:
Players #2
Author:
Mackenzie Crowne
Publication Date:
January 5/16 by Lyrical Shine
Length:
228pgs
Genre:
contemporary romance
Shelf:
review
Rating: ★★★★
Back Cover Blurb:
Can she trust this player with her heart?
Ever since experiencing a childhood trauma, reclusive artist CC Calhoun has suffered from panic attacks. But when a fateful kiss from handsome wide receiver, Kevin "Tuck" Tucker, is enough to stop one of those episodes cold, she wonders if guarding her heart has been the right choice. Will going on a test date with Tuck open her to trusting someone for the first time in years? Or will she wind up being just another notch in the football player's bedpost?
Tuck has a reputation for charming women into bed, but after his kiss with CC, he's left aching for more. When he proposes a second date, his attraction to the sexy blonde looks like the makings of true love—something he's never quite believed in—until now. But when Tuck discovers CC's childhood secrets, will the pro athlete be tough enough to stay by her side—or will he betray her hard-earned trust?
My Review:
Ok, I'll admit, the initial premise that has these two main characters coming together made me cringe. I mean, honestly, who does that? But Crowne really made it work for this story. The plot was fun & upbeat. The descriptions were apt without being too obvious. Crowne allows romance to shine through without becoming too cheesy or clichéd.
I enjoyed getting back with characters that we had a sneak peak at in the 1st novel of the series, as well as getting to know the new individuals that Crowne introduces us to. Her character development let me get up close and personal without giving too much away.
This novel was definitely a lot of fun for me to read. It could easily be read on its own or as part of this interesting series.
Book Links