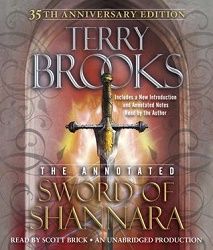 Title:
The Sword of Shannara, 35th Anniversary Edition
Series:
The Original Shannara Trilogy #1
Author:
Terry Brooks
Publication Date:
October 30/12 by Random House Audio (1st Published 1977 by Del Rey)
Length:
523pgs
Genre:
Fantasy
Shelf:
Borrowed
Rating: ★★★★★
Book Links:
Goodreads
–
Amazon(US)
–
Amazon(CA)
-
B&N
-
Kobo
-
Indigo
-
Google Play
–
Audible
Back Cover Blurb:
THE PHENOMENAL EPIC OF GOOD AND EVIL LIKE IT'S NEVER BEEN EXPERIENCED BEFORE
Thirty-five years ago, Terry Brooks brought to life a dazzling world in The Sword of Shannara. Fourteen more Shannara volumes would follow, making the series one of the most popular fantasy epics of all time. Now comes a fully annotated collector's edition of the novel that started it all—featuring never-before-shared insights into the classic tale, an all-new introduction by the New York Times bestselling author, and replica sketches of some of the long-lost paintings and color plates by the Brothers Hildebrandt that decorated the original edition.
Long ago, wars ravaged the world. In peaceful Shady Vale, half-elfin Shea Ohmsford knows little of such troubles. Then the giant, forbidding Allanon reveals that the supposedly dead Warlock Lord is plotting to destroy everything in his wake. The sole weapon against this Power of Darkness is the Sword of Shannara, which can be used only by a true heir of Shannara. On Shea, last of the bloodline, rests the hope of all the races.
Soon a Skull Bearer, dread minion of evil forces, flies into the Vale, seeking to destroy Shea. To save his home, Shea must flee, drawing the Skull Bearer after him in menacing pursuit.
Thus begins the enthralling Shannara epic, a spellbinding tale of adventure, magic, and myth.
My Review:
Wow! Just wow! This is one of those how have I not read this before moments. Brooks starts with the standard trope of a fantasy tale and then runs with it. He is a visually descriptive author who also leaves room for your imagination to run wild. It's the best of both worlds. The fantastically vivid world building transported me there. I love the way that this world is developed gradually but fully as we visit each area of it. The blatant symbolism and foreshadowing heightened the experience for me. Brooks writes vividly real action sequences that you don't just read, you feel. I was holding my breath, caught up in the story. Heck, I even enjoyed the annotations. Rather than being annoying as in so many other tales, they truly heightened this for me, giving me extra insight into the world and the characters, forming an extra bond.
I enjoyed getting to know the different races and this world in general through Shea's eyes. It gave a uniquely approachable and vivid perspective to everything. And the magic and the mystery behind the elfstones was fantastic. I loved unravelling the how and why each aspect works. I love Allanon's temper. His less than perfect nature made him seem more real and approachable. He was a fantastic character. I fell in love with the entire cast of characters in this novel. Brooks develops each member of the fellowship individually, allowing you to get to know them as people outside of this life altering and earth shattering quest. The intertwining storylines of the characters, all heading towards the same basic end goal, was complexly compelling. Not only did it keep the plot moving but it also let me get to know everyone in their own manner.
This is one of the most intricately crafted and incredibly rewarding fantasy worlds that I've ever been invited into. I've only got one thing left to say. READ IT!!!! There's nothing I can say to fully convey the true brilliance of this novel.
Title:
The Elfstones of Shannara
Series:
The Original Shannara Trilogy #2
Author:
Terry Brooks
Publication Date:
September 13/05 by Random House Audio (1st Published July 12/82 by Del Rey)
Length:
564pgs
Genre:
fantasy
Shelf:
borrowed
Rating: ★★★★★
Book Links:
Goodreads
–
Amazon(US)
–
Amazon(CA)
-
B&N
-
Kobo
-
Indigo
-
Google Play
–
Audible
Back Cover Blurb:
In the far future, unbeknown to humankind, an apocalyptic war is brewing. Fearsome, vengeful Demons rage at the boundaries of the world, held at bay by a spell called the Forbidding. But now that barrier is dying. Evil is beginning to break through. And only the Chosen can banish the Demons back to their realm.
Wil Ohmsford is a healer, not a fighter; a man of duty, not great deeds. But this epic battle seeks him out, for he holds the Elfstones: mysterious protective talismans passed down by his grandfather. Wil is recruited to act as guardian to the Elf girl Amberle, who must venture far to deliver a seed that will help the Forbidding to grow again. The fate of civilization rests upon her shoulders—and the completion of her mission rests upon Wil's. Now, as the forces of darkness descend, Wil and Amberle embark on a perilous journey, placing their faith in each other to survive the bloodthirsty terrors that await.
My Review:
This novel was absolutely magical. Brooks engaged my imagination and my emotions. The breathtaking scenes were vividly real, causing me to loose myself in the pages. It was written with an intensity that seeps from the pages.
Brooks' world building is a seamless part of the plot. He doesn't assume that the reader knows anything about this world, yet also doesn't rehash past events ad nauseum. It's the perfect balance. I love the deeper look at the elfstones. The intricacies behind them were fascinating. I enjoy how all of the races are under the umbrella of 'humanity'. They may be different from one another but they aren't 'other.'
Brooks captured me heart, mind & soul with this one. Anyone who enjoys the fantasy genre needs to read it!