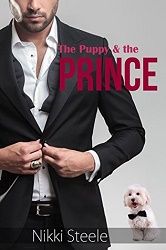 Title:
The Puppy & The Prince
Series:
The Puppy & The Prince #!
Author:
Nikki Steele
Publication Date:
November 29/15
Length:
55pgs
Genre:
contemporary romance
Shelf:
review
Rating: ★★★★ Book Links:
Goodreads
–
Amazon(US)
–
Amazon(CA)
Back Cover Blurb:
The only good man in Kate's life is her precocious puppy Baxter. That is until Baxter brings her together with a handsome stranger.
Tall, dark and mysterious, there's something regal about the stranger—not that Kate would ever notice. She doesn't have time for men, even men with manservants and unlimited credit cards.
But the sexy stranger has noticed her! And with Baxter's help he'll make sure she notices him, too.
This is a short, steamy romance. It contains smoking hot action between a nurse and a sexy, exotic Prince Charming. It includes scenes which are for adults only.

The Puppy & the Prince is book one in a four part series. It is a self-contained story, but is part of a larger storyline (so it contains minor cliffhangers). Read it if you want a modern fairy tale romance with the steamy bits left in!
My Review:
If I were to describe this in one word that word would be CUTE. This story is cute in so many different ways, not the least of which being the adorable puppy who is a character all on his own. The human characters weren't half bad either. Xander was priceless, walking a fine line between authoritative and attentive, secretive and mysterious. Kate's frank openness drew me in in the complete opposite manner. I enjoy how they got to know each other over such a cute puppy. It is a solid first encounter that lets you see (and feel) the explosive relationship building between these two.
This story was a fantastic introduction to Steele's captivating characters and a wonderful tale in and of itself, but I will warn you, it'll leave you dying for the next story.