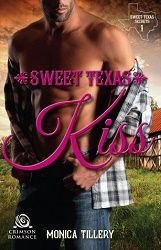 Title:
Sweet Texas Kiss
Series:
Sweet Texas Secrets #1
Author:
Monica Tillery
Publication Date:
April 4/16 by Crimson Romance
Length:
149pgs
Genre:
contemporary romance
Shelf:
review
Rating: ★★★★
Back Cover Blurb:
Small town. Big secrets. Welcome to Sweet Ridge.
The Cooper brothers receive the shock of their lives when their deceased father, owner of the lucrative Guac Olé company, wills away their inheritances to three random women.
No one's more surprised when Jack Cooper leaves the family estate to music superstar Macy Young than his oldest son. Seeing his childhood memories being handed over to his high school rival—the first woman to break his heart—stings, especially when Gavin is left only a pair of old reading glasses and a cryptic note. Luckily, Macy can't sell the house for one year—plenty of time for Gavin to find a way to get it back.
Living in the harsh spotlight of country music fame has cost Macy, and a little hometown peace and quiet just might heal her soul. But giving up and giving back Gavin's greatest prize may not be the tune she plans to sing.
Can a country star and a country veterinarian find a way to bury their animosity and rediscover their first love in the process?
My Review:
What an intriguing start to this new series. Tillery puts pen to paper to create a fun & romantic tale with a shocking premise and heartfelt conclusion. Picturesque descriptions bring the novel to life in a way that allowed me insight into where these characters came from while also inviting me in. The well and intricately developed characters were both a blast to get to know and a perfect counterpoint to one another. Personalities clash and battle lines are drawn in the sand in manners that I would have never imagined. I loved it!
Tillery made me laugh and sigh with this one. This fun filled romance definitely held my attention throughout.
Book Links