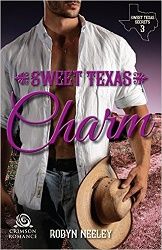 Title:
Sweet Texas Charm
Series:
Sweet Texas Secrets #3
Author:
Robyn Neeley
Publication Date:
April 18/16
Length:
217pgs
Genre:
contemporary romance
Shelf:
review
Rating: ★★★★★ Book Links:
Amazon(US)
–
Amazon(CA)
-
B&N
-
Kobo
-
Indigo
-
Google Play

Back Cover Blurb:
Small town. Big secrets. Welcome to Sweet Ridge.
Grayson Cooper is livid when he learns his father left him a keychain with a strawberry charm rather than ownership of the successful Guac Ole company. He's been groomed for this position since he escaped the factory floor as a teen and joined Jack in the corporate offices. But what good is the CEO title without the stock shares?
College dropout Becca Nash is dumbfounded to learn that she now owns fifty percent voting stock in the company where she's just a line supervisor. The pay bump will help her take care of her mother's nursing home care, but the corporate halls intimidate her - and who wants to hobnob with those snobs anyhow?
Stymied at every turn by her attitude, Grayson goes undercover boss to find out how he can steal back those shares, but surprisingly loses his heart to Becca instead. What he does discover is a secret that could blow apart not only Becca's world but his whole family. With so much hanging in the balance, Grayson must decide whether it's better to follow his head or his heart.
My Review:
Neeley never fails to create sweet romance backed by a tale that will hold your attention. Add some characters that you truly want to read about and you have a definite winner in SWEET TEXAS CHARM.
I love how Neeley's writing melds with that of the other 2 authors penning novels in this series, while also standing out on its own. Beautiful descriptions combine with the unique, yet well-defined plot, to create a one of a kind read. I found myself fully invested in these characters' stories. They were both likeable and the type of individuals who stand out. The chemistry between them sizzled at times as they clashed heads.
This was a great conclusion to this trilogy. Neeley has definitely created a novel well worth reading. I'd suggest reading the series in order for the utmost enjoyment, but it's not strictly necessary.