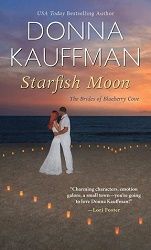 Title:
Starfish Moon
Series:
The Brides of Blueberry Cove #3
Author:
Donna Kauffman
Publication Date:
April 26/16 by Zebra
Length:
368pgs
Genre:
contemporary romance
Shelf:
Netgalley
Rating: ★★★★ Book Links:
Goodreads
–
Amazon(US)
–
Amazon(CA)
-
B&N
-
Kobo
-
Indigo
-
Google Play
–
Audible
Back Cover Blurb:
"Charming characters, emotion galore, a small town—you're going to love Donna Kauffman!"—Lori Foster
Nestled on the Maine coast, Blueberry Cove is a peaceful retreat compared to the excitement of exotic cities and foreign lands. But it's also the best place in the world for one woman to find her heart's true home…
Kerry McCrae's wanderlust has taken her to parts of the globe most people have only glimpsed in pictures. So why is tending bar at the family pub in Blueberry Cove after her Uncle Fergus's stroke an easier adjustment than she expected? And why hasn't she left once Fergus is back on his feet? When tall, tanned Cooper Jaxton walks through the door, she knows the answer in a heartbeat…
Born and raised deep in Australia's outback, Cooper never planned to leave the wild country he loves. But after almost a year of having Kerry—with her sparkling eyes and outrageous stories—on his cattle station, Cooper was stunned when she left. Suddenly home wasn't the same without her. Making his way to Blueberry Cove to find her is a risk, but Cooper is counting on the passionate connection between them to convince her that the only place either of them needs to be is together…

Let the honeymoon begin…
My Review:
This novel is all in the details. There are lots about the scenery and the surroundings. Kauffman includes a great deal of narrative that focuses on background info, where the main characters were and what they did before now. This gave the novel a unique feel throughout.
This is one of those novels that I had to become really invested in the characters to enjoy. Don't get me wrong, the tale is well written and engaging. The plot was just atypical for Kauffman's work. Once I was immersed in this world and the characters it was a great read. And that was no hardship at all since Kauffman has filled this novel with characters that captured my heart from the moment that I met them.
I love how the characters can laugh at themselves (and at each other). Romance between these two is always fun, if not always easy. And I'll admit, I'll never look at a pirate the same way again. The relationship between the main characters is also solid. There's a lot of talking and figuring things out. It was nice to see where it all came from.
This was a Blueberry Cove novel that definitely stood out for me. The characters were fantastic and the plot very heartfelt. It's a great read as part of the series or on its own.