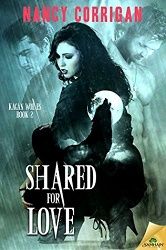 Title:
Shared for Love
Series:
Kagan Wolves #2
Author:
Nancy Corrigan
Publication Date:
May 10/16 by Samhain Publishing LLC
Length:
297pgs
Genre:
paranormal romance
Shelf:
review
Rating: ★★★★★ Book Links:
Goodreads
–
Amazon(US)
–
Amazon(CA)
-
B&N
-
Kobo
-
Google Play
Back Cover Blurb:
Their bond is heaven on earth... but it could tear their pack apart.
Ethan Jager is forced to hide behind a false identity as his pack mates suffer under Michael Tanner's rule. It's not his choice; he was born broken, without the primitive urge to breed driving him to pick a mate.
While his wolf sleeps, his heart has chosen for him: Noah, widower and fellow pack dominant.
Everything changes the day Hannah Kagan smiles at him. Lust awakens his wolf - a first. Hannah is beautiful, loyal, kind, everything an alpha male should want. And mating her will allow him to reclaim his pack. It will also leave his soul with a giant hole when he's forced to rip Noah out of his life.
Hard choices are required of alpha males, but choosing which lover to let go is one Ethan refuses to make. The alternative will not only change the pack, but transform their world... if he can keep his mates alive long enough to claim them both.
Warning: Contains an alpha male whose wolf doesn't like to share his toys, a dominant female who's nobody's plaything, and a beta male who doesn't roll over for anyone. Also: speed dating, werewolf style. Band-Aids required.
My Review:
Welcome back to the world of the Kagan wolves, with another fast paced and exciting tale that had me devouring it in a single sitting. Corrigan's seamless writing combined with her well plotted tale to create a whole that I didn't simply read, I experienced. It was both suspenseful and emotional. This novel was absolutely heartbreaking at times, but always full of love.
Corrigan's view of wolf shifters is different from so many of the others out there. It's well developed and very intriguing. I like the way that Corrigan showed the differentiation and difficulties between man and his shifter half. The less glorified version of being a shifter is pronounced and adds a great deal to the tale. I love how it feeds into the relationship between the main trio of characters here. The well-developed mythology surrounding them and the pack was not only interesting but made me want to be part of it.
And don't even get me started on the characters! This cast was both diversely and well developed. Ethan's battle with himself over wants and desires vies with his extremely alpha personality. I thoroughly enjoyed getting to know him. Noah's strength and understanding were just as appealing to me. Not only were these two dominant males fantastic, but the way that Hannah bridged them left me dying for it myself. Individually these there were a lot of fun, but together they were unforgettable. Owen was fascinating. What he's been through was horrifying but the new things that he brings to the table were awesome. He's one of those supporting characters who really stick with you. I'd love to see him with his own story.
This was an emotional yet exciting look at the choices true mates could force upon an individual. The different viewpoints and lives involved all had me hooked. It's a fantastically unique read for anyone who enjoys shifter romance, whether they've been following Corrigan's work or are just being introduced to it.