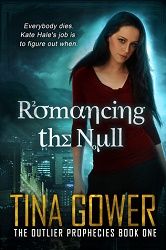 Title:
Romancing the Null
Series:
The Outlier Prophecies #1
Author:
Tina Gower
Publication Date:
February 13/16
Length:
220pgs
Genre:
urban fantasy
Shelf:
review
Rating: ★★★
Book Links:
Goodreads
–
Amazon(US)
–
Amazon(CA)
Back Cover Blurb:
There are three kinds of lies.
Lies the fates spin as half truths.
Lies of destined love.
And statistics.
As a fateless, Kate Hale is immune to the first two, but the third kind of lie is her profession. After spending years as an actuary for the Traffic Department, Kate is promoted to Accidental Death Predictions. It's all she's worked toward, and her career is finally on track. But when an oracle delivers an impossible death prediction and insists on her help to solve the case, she might lose any chance of impressing the brass.
Her only hope comes in the form of the police liaison assigned to her department, latent werewolf Ian Becker. Becker can grant her the clearance to find answers, but he's a wild card with a shady past who doesn't play well with others.
Every prediction has a loophole, but if Kate can't solve the case before the crime is fated to occur she won't just lose her job–she'll have the blood of an oracle on her hands.
My Review:
Gower has definitely created a unique premise for this story, allowing it to stand out in the sea of genre specific writing. Vivid descriptions and well edited writing presented a great picture for readers. Gower built a very solid world for her characters to develop in. The in depth world building allowed me to picture it easily, yet at times it felt a bit one sided to me. The what's were there, but sometimes I felt that they why's were missing. I also enjoyed the characters. They were fun and filled their roles well. That said, they may have been more engaging if the major players had their backstories further developed.
Although I enjoyed the premise of this story and had fun reading it, I couldn't fully get into the book. It was a good, solid read and an intriguing start to this new series.