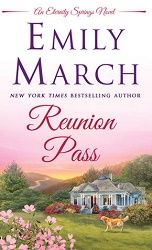 Title:
Reunion Pass
Series:
Eternity Springs #11
Author:
Emily March
Publication Date:
April 5/16 by St. Martin's Paperbacks
Length:
336pgs
Genre:
contemporary romance
Shelf:
review
Rating: ★★★★★
Book Links:
Goodreads
–
Amazon(US)
–
Amazon(CA)
-
B&N
-
Kobo
-
Indigo
-
Google Play
–
Audible
Back Cover Blurb:
IT'S NEVER TOO LATE TO HAVE A CHANGE OF HEART.
Six years ago, Chase Timberlake bought an engagement ring for his high school sweetheart Lori Reese. Then ... life happened. Chase's adventure photography career took off, Lori's dream of getting into veterinary school came true, and their happily ever after never came to pass.
When Chase's jet-setting life takes a tragic turn, he returns to Eternity Springs a damaged man. Who better to help mend his spirit than the woman who has dedicated her life to healing broken wings? Long summer days spent together rekindles the love that never died and Chase dares to dream of a future he'd thought lost. But Lori can't help but wonder whether this high-flying man really wants a small-town girl with roots sunk deep into the Colorado Rockies. Can she and Chase turn back the hands of time and pick up where they left off -- and give forever a chance?
My Review:
Welcome back to Eternity Springs where hearts heal & miracles happen. Once again March delves into this fantastic small town to give readers a story full of emotion and acceptance, along with a HEA that can't be beat. I loved how bittersweet this take was at times. Life for these characters isn't perfect, but it's always very, very real. And the romance? It will make you swoon and envy the couple. The emotions are poignantly real throughout.
Vividly beautiful descriptions pair with a seamless yet original second chance romance to bring the characters to life in an unforgettable manner. I really enjoyed the growth in Chase and Lori, yet the fact that they are still essentially the same two people that made me smile when I first met them earlier in the series. At the same time, March develops them in such a manner that you get to know them very well within this novel itself. It's a brilliant mix. And the supporting cast? Small town at its finest. Everyone knows everything about everyone and are more than willing to step in, if needed or not.
March has definitely created a winning and heart-warming novel here, both for Readers following Eternity Springs from the get-go and for those just entering this fantastic world.