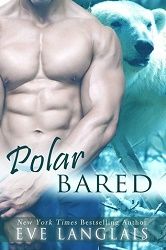 Title:
Polar Bared
Series:
Kodiak Point #3
Author:
Eve Langlais
Publication Date:
November 4/14
Length:
201pgs
Genre:
paranormal romance
Shelf:
own
Rating: ★★★★
Book Links:
Goodreads
-
Amazon.com
-
Amazon.ca
-
B&N
-
Kobo
-
Indigo
-
Google Play
-
Audible
Back Cover Blurb:
What's a bear to do when a human has a polar-izing effect?
When Vicky accidentally slides into the side of a polar bear, she doesn't expect to fall in love. Eaten yes, perhaps used as a chew toy, but become the object of a bear's affection and lust?
Crazy! Almost as crazy as the fact the polar bear turns out to be a man. A sexy man. A man who growls, and roars and does everything he can to chase her away.
Only to come back.
Gene only has one thing on his mind, vengeance, until Vicky crashes into his life.
Poor Gene. After the pain and betrayal he suffered in the war all he wants is revenge against the brothers who left him behind. But he's confused when instead of wanting to punish him for his evil acts, they offer him forgiveness.
Who does that?!
As if that weren't annoying enough, the cutest geek he ever met--with caramel kissed skin and wearing the sexiest dark rimmed glasses--won't leave him alone. Or more like, he can't seem to stop following her.
And it isn't just because someone is out to hurt her.
He wants her. But does he want her more than vengeance?
My Review:
Langlais has a way of making me laugh while also leaving me all hot & bothered. Her vibrant descriptions not only set the scene, but also drew me in, making me feel as if I were part of the story rather than simply reading it. The fast paced & exciting plot kept me on my toes. I loved the plot twists that kept the suspense rolling. At the same time, the romance and heat that this couple has were off the charts.
I enjoyed the concept of a multi species clan. It allows for a much more varied cast with a great deal of varying personalities. That said, the main characters in this novel were a fantastically unexpected couple that I had a blast with. The beginnings of Gene's self-forgiveness were a heart melting addition to this action packed tale. Vicky's self-doubt combined with her desire to be her best self was exhilarating. And her clumsiness? That just made her adorable.
This novel was a fantastic addition to Langlais' Kodiak Point series. I wouldn't hesitate to recommend it to paranormal romance lovers, but I would caution you to read the series in order for context.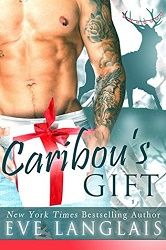 Title:
Caribou's Gift
Series:
Kodiak Point #3.5
Author:
Eve Langlais
Publication Date:
December 16/14
Length:
99pgs
Genre:
paranormal romance
Shelf:
own
Rating: ★★★★★
Book Links:
Goodreads
-
Amazon.com
-
Amazon.ca
-
B&N
-
Kobo
-
Indigo
-
Google Play
–
Smashwords
Back Cover Blurb:

Darn it, a man had his pride and a caribou a certain majestic presence, all of which could wind up ruined if he abased himself to play a simple-minded reindeer in the town's Christmas parade.
No way was he wearing tinsel in his antlers.
Like heck was he sporting a red nose and pulling a sleigh.
But he changes his mind when he meets the woman in charge of the event.
Single mom, Crystal, is doing her best to offer her daughter the best Christmas ever. It's their first in Kodiak Point, and she's not about to let some vain jerk ruin it.
If playing dirty is what it takes…then bring on the Christmas games.
As Crystal and Kyle butt heads, they discover more than goodwill this holiday season. They're gifted with a second chance at love.
My Review:
Take a self-satisfied shifter male, add one female with the need to give her daughter the perfect Christmas, and throw in an Alaskan shifter town to create Langlais' fun, funny, and fantastically sizzling novella. This fast paced, quick read is perfect for any time of year. The dash of suspense kept me on my toes as an explosive romance built between the main characters. Langlais had me laughing from the first page.
Kyle's fun loving exterior and wounded heart combine with his warrior self to create the ultimate hero for this novella. Even if he weren't so drool-worthy, his personality would have me falling in love with him. The way that he thinks in 'missions' not only made me giggle but also gave a lot of insight into his personality. Crystal's protective nature doesn't negate her need for a mate, yet the way that we get to know her was so intriguing that I couldn't help but want to know more. And the best surprise in this cast was a little wee one who had my heart in her had from the moment I met her. As much as Crystal and Kyle's relationship had me swooning, this tale was about so much more than just them.
This novella is yet another fantastic addition to Langlais' shifter world. It can be easily read on its own or as part of the Kodiak Point series, but it definitely must be read.