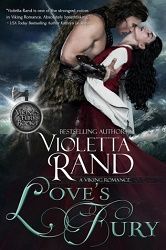 Title:
Love's Fury
Series:
Viking's Fury #1
Author:
Violetta Rand
Publication Date:
April 19/16 by Dragonblade Publishing
Length:
130pgs
Genre:
historical romance
Shelf:
review
Rating: ★★★★ Book Links:
Goodreads
–
Amazon(US)
–
Amazon(CA)
Back Cover Blurb:
Caught between duty and passion…
After losing a drinking wager with his eldest brother, Konal the Red finds himself drafted by the Danish prince and fighting in Northumbria. Once his military contract expires, he intends to return to Norway where he belongs. But his exploits have earned him respect, lands, and a few enemies. Rewarded with a Saxon beauty who inspires more than simple passion, he's determined to win her trust and body.
Caught between a heart locked on revenge and seduction…
Silvia, the only child of the church undersecretary, vows to avenge her beloved father after he's killed in a siege. It doesn't matter which Viking wielded the axe—an eye for an eye is the only thing that will satisfy her. When Konal claims her as a spoil of war, she sees it as the perfect opportunity for revenge. She never expects to discover a pure heart buried beneath Konal's barbaric exterior.
As Konal slowly rekindles a spark of life inside her, their fates become hopelessly entwined. Not only must they withstand the violence of the envious lust-mongers who threaten them, Konal and Silvia must choose what's most important—tradition or love that cannot be denied.
My Review:
This tale is raw, real, and in your face. Rand doesn't sugar coat things, bringing everything to life in the most vivid of manners. Rand transports readers seamlessly back in time to experience, rather than simply read, this story. The plot tugged at my heart while also making me think. It was a brilliant mix.
I enjoyed the look at each character's emotions and thoughts. Not only did this bring forward the different cultures and societies that clash here, but it also let me get to know the main characters well. The complex characters that we get to know throughout are fantastic. Silvia's muted bravery combined with her sharp mind served to create a unique heroine who also stays well within societal bounds for the time period at hand. She is in direct opposition to Konal's desires to do what is expected and to keep his honor. The banter between them was unforgettable.
Rand has once again created a seamless tale that both highlights the distant past while telling a tale that still resounds today. It was a fantastic read that I wouldn't hesitate to recommend to others.