Thank you for having me on your lovely blog today, Jonel!
Q ~ Can you tell us a bit about yourself?
I live a pretty simple life. I've had the busy, hectic life of a family and writing as a freelance writer and editor and it was fun and exhilarating. Now things are less hectic and I'm able to focus a lot more on my own fiction writing. I love it. A friend recently told me that she doesn't define herself as a writer, she is just is someone who writes. I don't know if it's healthy or not, but I am the opposite. I am more than a writer, but writing and being a writer and editor is a part of me as much as my arms and hands and fingers and toes.

Beyond writing, I enjoy time spent with family, hiking, biking, reading, and just simply chilling in nature. I have watched all the seasons of Longmire – twice – and am now waiting, waiting, waiting for the next season to air.

Q ~ If you could have coffee (or tea) with any author who would it be and what would you ask them? And what would you have?
I would love to sit down and talk with Jane Austin over coffee – dark roast, black. Her stories were romantic and full of character. Her heroines faced stiff society rules governing the lives of women. These characters, though, were not docile or accepting. They were brave and self-determining. Even living under constraints of the period, she wrote characters who demonstrated hope and resiliency. I would ask her what inspired her to write, and to write courageously.

Q ~ How do you think people perceive authors?
People have ideas in their heads about what makes an author, first of all, and then their perception of authors is an individually based thing. Genre fiction authors, especially romance writers, seem to face an attitude of dismissal. "Oh, you write romance novels." Subtext – you're not a real writer. But in my experience, many people get glowy eyed and say they wish they could write. They admire and respect the efforts of authors.

Q ~ How do you feel about self-publishing?
The publishing world has changed a lot in the years I've been writing. I predate e-books by a few years. I used to believe self-publishing wasn't legitimate writing. I've changed my views as the industry has changed. I feel self-publishing is hard work and it's very important to use professional editing services. But each author should follow their particular path in writing, so if it's self-publishing, I'm all for it.

Q ~ What is your favorite quote, by whom, and why?
Oh wow, I love quotes! I have so many favorites, so I'll just pick one. "I never said it would be easy. I said it would be worth it." It has been attributed to Mae West and a coach. There are so many things it can be applied to for inspiration, but for me, it is about writing.

Q ~ What is your favourite genre to read? To write?
I love reading paranormal romances. I enjoy the development of relationships the triumph of love, with a bit of magic in the story. For those reasons, I also enjoy writing it, although I also enjoy writing and reading romantic suspense. Puzzling out stories and allowing characters to be in pain and danger and come out a better person is delightful for me.

Q ~ Are there any new (or new to you) Authors that have grasped your interest recently and why?
Crimson Romance authors are writing outside of the box, interesting stories. I could name any one of them. One of Crimson's editors, Jessica Verdi, also writes and I recently read her book, "What You Left Behind." It was an emotional experience for me.

Q ~ Why do you think romance readers love reading about shifters) so much?
I'm not an expert on why people read what, but for myself, I enjoy reading larger-than-life characters with storylines to match. I also enjoy reading other types of fiction, but I've found myself reading other genres, such as the suspense Wild Justice by Kelley Armstrong (which I loved!) and wondering where the fireballs are and the shifting into other forms. We believe we know the ground rules for life on planet Earth. But entertaining the concept that we don't, and that there a ways of being we don't know about, is mind-opening. And that is fun.

Q ~ How did you begin writing? Was there a single catalyst or a series of events?
I've always been a creative looking for a way to express. As I kid I was attracted to drawing and painting and my parents supported that interest. They also tolerated my tendency to collect words, interesting thoughts, and phrases that spoke to me. But I did not become an artist and I spent years searching for what I wanted to do with my life that would be meaningful to me. Then I read a book by John Gardner, On Becoming a Novelist, and it was like I had just woken up. I resonated so strongly with his thoughts. I jumped into writing and I've never let go. Not yet, almost twenty years later.

Q ~ Do you have any writing rituals that you follow? What is your go-to snack while writing?
I'm not superstitious but I believe in the value of rituals. For a long time I would turn on music, songs associated with what I was working on, to get me started. These days I like quiet when I'm working, but I still tend to start with a song that inspires me and calms my self-doubt.

I'm not a snacker, but I wouldn't start any day without coffee, and plenty of it throughout the day.

Q ~ Do you prefer to write in a small town or big city setting? Why?
This is a fun question! I like to write in both settings, depending on the story. But so far all my books have been set in the fictitious city of Laurelwood, which I envision as mid-size micro-urban center with a vibrant downtown surrounded by healthy, homey neighborhoods beyond the center. I love big cities, Chicago!, but for the stories I've been writing I wanted to combine some elements of a big city and incorporate the community feeling of smaller towns, hence the neighborhoods. I'm gathering ideas for my next book and am open to a big-city setting if it works for the story.

Q ~ Can you tell us a little bit about your latest release and what inspired you to write it?
Unstoppable, released February 22, is the final book in my Fierce Hearts series. The five-book series followed the stories and developing relationships of a were-lynx colony. Each book deals with the hero and heroine's unique problems and the overarching situation of the presence of The Nexus Group, an evil organization that seeks to eliminate the were-lynxes and take over the city, then the country. In Unstoppable, were-lynxes Lara Monroe and Booker Chase are drawn to each other but try to ignore their attraction because of past traumas, her's childhood molestation, his loss and PTSD from war.

In the series I wanted to explore different ways of being in family and showcase common inner conflicts for humans, but in the different ways the were-lynx lifestyle would address them. Of course, all the problems with each individual and the colony concerns with TNG are resolved in Unstoppable with a happy ending, as expected in a romance novel.

Q ~ What is your favourite part or scene in the novel?
I liked writing fight scenes. It was fun to show strong female and male characters who could easily take care of themselves. The moment that Lara, who has been resisting a relationship with Booker out of deference to his loss, realizes she is the one who is afraid of putting her trust in him, fearing he will hurt her as she's been hurt in the past. I love moments when characters open up to feel the lingering pain, process the impact, and expand to contain more truth.

Q ~ Can you tell us a bit about the process that went behind the cover artwork for this novel?
At Crimson Romance, authors provide input regarding cover elements. Cover designers decide what would best represent the book and increase sales.

Q ~ What is your process for choosing character names?
Oh, man. I love picking names. I keep notes with possible names in my journal, on sticky notes and pieces of torn paper. When I began brainstorming the Fierce Hearts series, the names of the characters just flowed onto the paper. When I get a name it typically aligns with the character traits I'm considering. It's a fun and easy process for me.

Q ~ What characters did you find yourself especially drawn to and why?
That is easy. I love all the characters in the Fierce Hearts series and each one, including Lara and Booker in Unstoppable, contribute to the themes of what makes a family, learning that the world is not what they think it is, and facing inner woundings as a path for evolvement. But in Probabilities, Book 4, I particularly enjoy hero Quinn. He is unique in that he is a red-headed hero. He is a genius and is confident about himself and his world. But even though highly intelligent, he suffers from loneliness and has a hard time relating with "average" individuals. I like portraying a character who one might consider has things easy, being super smart. Yet, he never has felt connected to anyone and his differentness made him a target for mistreatment and rejection.

Q ~ What are you working on next?
Presently, I'm moving to another city in another state, so writing is on hold, except for promotions of Unstoppable. I'm chomping at the bit, though, to take the ideas rolling around in my mind and make a story.

Q ~ Do you have any conferences/book signings/events coming up?
No, but thank you for asking.

Q ~ If you could give aspiring authors one piece of advice, what would it be?
Believe in yourself. If you have a heart and mind to write, don't let other people define who you are, learn to be who you are, really.
About the Author:
Lynn Crandall lives in the Midwest and writes in the company of her cat. She has been a reader and a writer all her life. Her background is in journalism, but whether writing a magazine or newspaper story or creating a romance, she loves the power stories hold to transport, inspire, and uplift. In her romances, she focuses on vulnerable, embraceable characters who don't back down.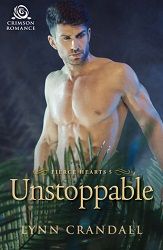 About Unstoppable:
Reeling from the recent Project Powering battle with the evil Nexus Group, were-lynx and veterinarian Lara Monroe struggles with thwarting the group's plans to eliminate her colony while dealing with her own traumatic past. Still, when her fellow colony cat—and secret crush—Booker Chase needs help, she's willing to use her special healing touch to help him survive his emotional hell.
A formidable were-lynx and a physician, Booker has his hands full helping patients who were seriously injured in the battle. But nothing can repair his soul, broken from the loss of his wife and the PTSD from his service in Afghanistan … or can it? Now that his good friend Lara is standing by him in his emotional struggles, he's finding there is more to their connection than he realized. But dare he open his heart?
In the epic conclusion of the Fierce Hearts series, the colony takes its biggest risk of all to shut down the Nexus Group forever—will Lara and Booker survive to take their second chance at love?