Title:
Head Over Heels
Series:
Lucky Harbor # 3
Author:
Jill Shalvis
Publication Date:
December 1/11 by Forever
Length:
328pgs
Genre:
contemporary romance
Shelf:
own
Rating: ★★★★★
Book Links:
Goodreads
-
Amazon.com
-
Amazon.ca
-
B&N
-
Kobo
-
Indigo
-
Google Play
Back Cover Blurb:
Breaking rules and breaking hearts.
Free-spirited Chloe lives life on the edge. Unlike her soon-to-be married sisters, she isn't ready to settle into a quiet life running their family's newly renovated inn. But soon her love of trouble - and trouble with love - draws the attention of the very stern, very sexy sheriff who'd like nothing better than to tame her wild ways.
Suddenly, Chloe can't take a misstep without the sheriff hot on her heels. His rugged swagger and his enigmatic smile are enough to make a girl beg to be handcuffed. For the first time, instead of avoiding the law, Chloe dreams of surrender. Can this rebel find a way to keep the peace with the straitlaced sheriff? Or will Chloe's colorful past keep her from a love that lasts... and the safe haven she truly wants in a town called Lucky Harbor?
My Review:
I'm definitely Head Over Heels for Shalvis' Lucky Harbor series & this novel definitely served to prove that point. This sweet yet intense tale is both realistic and something so much more than just a romance. It's about life and all that goes with it, and Shalvis packs this well written novel with a definite punch.
I'll admit that I've been dying for Chloe and Sawyer's story since we first met them. These two have such undeniable chemistry that them not getting together was unfathomable. At the same time, they are such genuinely sweet individuals that I really wanted to see them succeed. The contrasts and similarities in their personalities were fantastic. Surrounded by the friends and family that we've come to know and love, I felt like I was getting a peek into this community, not simply following a single couple around.
I, for one, can't wait to get back to Lucky Harbor to see what happens next. This novel is great in its own right and fantastic as part of this series that has me hook, line, & sinker.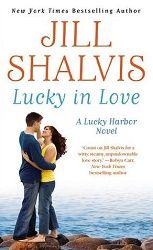 Title:
Lucky In Love
Series:
Lucky Harbor #4
Author:
Jill Shalvis
Publication Date:
May 22/12 by Forever
Length:
341pgs
Genre:
contemporary romance
Shelf:
borrowed
Rating: ★★★★
Book Links:
Goodreads
-
Amazon.com
-
Amazon.ca
-
B&N
-
Kobo
-
Indigo
-
Google Play
–
Audible
Back Cover Blurb:
Mallory Quinn has had enough of playing it safe. As a nurse and devoted daughter, she takes care of everyone but herself. And as the local good girl, she's expected to date Mr. Right. But for once, she'd like to take a risk on Mr. Wrong. And who could be more wrong than Ty Garrison? The mysterious new guy in town has made it clear that he's only passing through, which suits Mallory just fine. Besides, his lean, hard body and sexy smile will give her plenty to remember once he's gone . . .

For the first time in his life, Ty can't bear to leave. Helping this sexy seductress-in-training walk on the wild side is making him desire things he shouldn?t?including leaving the military for good. As their just-for-fun fling becomes something more, Mallory and Ty wonder if they could really be this lucky in love. After all . . . anything can happen in a town called Lucky Harbor.
My Review:
This is the type of novel that causes you to burst out laughing. At the same time, it's so real and heartfelt that it will tug at your heartstrings. Shalvis returns readers to Lucky Harbor with this heartfelt and emotionally charged novel that had me falling in love with this town and its inhabitants all over again.
Mallory's good girl/bad girl attitude was a lot of fun. The many facets of her character came together to create a complex whole that I could easily see myself being friends with. Ty's past and his current sense of self-worth were heartbreaking. They contrasted
I am so joining Chocolohics Anonymous. I hope that it works half as well for me as it did for Mallory.