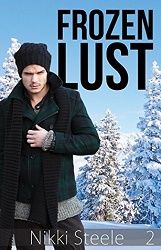 Title:
Frozen Lust
Series:
The Baker and the Billionaire #3
Author:
Nikki Steele
Publication Date:
February 5/16
Length:
50pgs
Genre:
contemporary romance
Shelf:
review
Rating: ★★★★
Back Cover Blurb:
Lesson 1: relax and enjoy.
Lesson 2: your body can turn pain into pleasure quickly, in skilled hands.
Lesson 3: it's much more fun if you let me be in control.
Lesson 4: there are many different pleasure zones in the body…
Libby is a curvy cook. Jax is a Billionaire. They came together for a one night stand, but now have to try and stay apart. When Libby loses a bet and has to cook Jax dinner, that might just prove harder than they think.
Frozen Lust is a tale of self-discovery at the hands of one very sexy Billionaire. It is a short, steamy romance which includes a smoking hot scene which is for adults only.
My Review:
Steele returns to Jax & Libby's relationship with a flash and promise that have me hooked. I love how Jax believes in Libby without fail. His strength helps her find her own. At the same time, his commanding attitude has me falling in love with him as quickly as Libby is. I enjoyed how Steele uses the chemistry between these two to further the plot of the overall story as well as to provide a very steamy story here. I'll admit that there were a couple of times that there was just a little too much detail, especially while Libby was cooking. Yes, it did serve to give insight into how she thinks, but it also slowed the forward motion of the tale for a few minutes.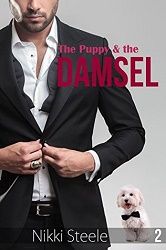 Title:
The Puppy & the Damsel
Series:
The Puppy & The Prince #2
Author:
Nikki Steele
Publication Date:
December 9/15
Length:
47pgs
Genre:
contemporary romance
Shelf:
review
Rating: ★★★★ Book Links:
Goodreads – Amazon(US) – Amazon(CA)


Back Cover Blurb:
Most people would say that dating a prince is a good thing. But by the very definition of the word, I am a commoner. It could never work out between us.
Kate's night of passion with a sexy stranger was supposed to be just harmless fun. But the handsome stranger is a prince, and that complicates things.
It would be best for them both if they stayed away from each other. The problem is, it's so hard when it feels so good—especially when he's so good and hard!
This is a short, steamy romance. It contains smoking hot action between a nurse and a sexy, exotic Prince Charming. It includes scenes which are for adults only.
It is book two in a four part series. While it can be read independently, it is part of a larger storyline (so it contains minor cliffhangers and some references to previous events).
Read it if you want a modern, fairy tale romance with the steamy bits left in!
My Review:
Ok. This tale is cute & adorable. The fairy tale romance surrounding Xander & Kate just keeps growing. I love how they fit together so perfectly as individuals despite the differences in their lives. I love the mix of heat & sweetness that Steele works into this novel. At the same time, the uniqueness of the entire tale that kept me intrigued.
This intricately plotted, well written tale was a fantastic sequel to the Puppy & the Prince and I'd definitely recommend it to others.