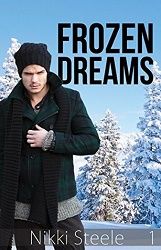 Title:
Frozen Dreams
Series:
The Baker and the Billionaire #1
Author:
Nikki Steele
Publication Date:
January 27/16
Length:
51pgs
Genre:
contemporary romance
Shelf:
review
Rating: ★★★★★
Back Cover Blurb:
Libby lives in the shadow of her sister, a skier and Olympic contender. Her sister is younger, athletic and attractive, whereas Libby struggles with food issues, is curvy, and uncoordinated.
On a journey to the slopes, she meets a handsome mysterious stranger, and they share a single wild, hot night together. The freedom of a one night stand lets her do things she would normally be too timid to do—because she thinks she'll never see him again.
But all is not as it seems on the slopes. Because the stranger is there to stay…
Frozen Dreams is a tale of sisters, food addiction, self-discovery… and a very sexy Billionaire. It is a short, steamy romance which includes a smoking hot scene which is for adults only.

It is book one in a four part series. It is a self-contained story, but is part of a larger storyline (so contains a minor cliffhanger).Read if you want intelligent, curvy romance with all the sexy bits left in!
My Review:
I enjoyed getting to know the main characters in this tale. Libby's insecurities and easily explained via her sister, both the way in which she is treated by her and the epically different lives that these two lead. Jax's heartfelt attitude is perfect for Libby, especially since he never pities her. And the chemistry between them, wow! But there was more to the story than just that. The storyline was compelling. The chemistry simply heightened it for me. This was a quick and satisfying read. I definitely can't wait to delve into part 2.
My overall thoughts can be summed up as such: read it! Just. Seriously. read it!
Book Links