Title:
Dance With the Devil
Series:
Dark-Hunter #3
Author:
Sherrilyn Kenyon
Publication Date:
November 28/03 by St. Martin's Press
Length:
343pgs
Genre:
paranormal romantic suspense
Shelf:
borrowed
Rating: ★★★★★
Book Links:
Goodreads
-
Amazon.com
-
Amazon.ca
-
B&N
-
Kobo
-
Indigo
-
Google Play
Back Cover Blurb:
Zarek's Point of View:
Dark-Hunter: A soulless guardian who stands between mankind and those who would see mankind destroyed. Yeah, right. The only part of that Code of Honor I got was eternity and solitude.
Insanity: A condition many say I suffer from after being alone for so long. But I don't suffer from my insanity-I enjoy every minute of it.
Trust: I can't trust anyone...not even myself. The only thing I trust in is my ability to do the wrong thing in any situation and to hurt anyone who gets in my way.
Truth: I endured a lifetime as a Roman slave, and 900 years as an exiled Dark-Hunter. Now I'm tired of enduring. I want the truth about what happened the night I was exiled-I have nothing to lose and everything to gain.
Astrid (Greek, meaning star): An exceptional woman who can see straight to the truth. Brave and strong, she is a point of light in the darkness. She touches me and I tremble. She smiles and my cold heart shatters.
Zarek: They say even the most damned man can be forgiven. I never believed that until the night Astrid opened her door to me and made this feral beast want to be human again. Made me want to love and be loved. But how can an ex-slave whose soul is owned by a Greek goddess ever dream of touching, let alone holding, a fiery star?
My Review:
Zarek's past and present collide in this epic battle of good vs evil. Action and suspense collide with romance and self-discovery as Kenyon's writing shines at its finest. Vivid descriptions augment the narrative, making the story both easy to picture and endlessly exciting.
Zarek was an absolutely unforgettable hero. The good and bad that surround him were at constant odds with each other. My heart broke for him at every moment, yet his strength, even if a little backwards at times, made my heart swell.
I really enjoy the further development of Acheron's power throughout this novel. Knowing so much more about him made the entire novel so much more interesting. The insight that we get into his relationship with Artemis and their power dynamic also explained a great many things for me.
Once again Kenyon has created a seamless tale that was a real joy from cover to cover.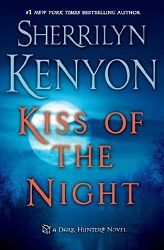 Title:
Kiss of The Night
Series:
Dark-Hunter #5
Author:
Sherrilyn Kenyon
Publication Date:
December 10/13 by St. Martin's Press (1st published 2004)
Length:
368pgs
Genre:
paranormal romance
Shelf:
borrowed
Rating: ★★★★
Book Links:
Goodreads
–
Amazon(US)
–
Amazon(CA)
-
B&N
-
Kobo
-
Indigo
-
Google Play
–
Audible
Back Cover Blurb:
What do you get when you have an immortal Viking warrior no one can remember five minutes after he leaves their presence, and a demon on the run for her life who is being pursued by one seriously pissed-off demigod?
That would be my life.
It started out simple enough. One night I went to save a woman in trouble. The next thing I knew, the doorway to hell had opened and out stepped Daimons- soul-sucking vampires the likes of which I'd never seen before. Led by the son of Apollo, they are out to end the curse that has banished them all to darkness. The only problem with that is they have to kill Cassandra Peters to do it and if she dies, so dies the sun, the earth and all who dwell here. Life's just a bowl full of cherries, ain't it?
Brought together by fate, it's now my job to protect a daughter of the very race I have been hunting for centuries. Neither of us dares to trust the other. But if we don't find a way to overcome our differences and to bridge thousands of years of animosity, we won't die alone. We'll take the entire world with us.
Wulf Tryggvasen
My Review:
This was an emotionally turbulent novel. Kenyon writes emotions in such a manner that you really feel them. There is a sense of inevitability that held me captive. All the while, I never felt that all hope was gone. This balance added more suspense to this fast paced and danger filled novel.
I enjoyed the differences between the Appolytes and the Atlantians. The in-depth look at Appolyte history and culture as well as the differences between them and the Dark Hunters really put things into perspective. The history was fascinating. The holes in the Dark Hunter knowledge also comes to light in a manner that makes the story more intense and endlessly entertaining.
To top this all off, the cast of characters here was fantastic. Not only did I really enjoy the main characters in this novel, those who showed up to help out were just as fun & quite surprising. They all came together to finish off this fantastic story.