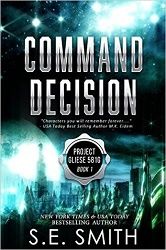 Title:
Command Decision
Series:
Project Gliese 581g
Author:
S.E. Smith
Publication Date:
April 5/16
Length:
309pgs
Genre:
SciFi Romance
Shelf:
own
Rating: ★★★★★
Back Cover Blurb:
New York Times and USA TODAY Bestselling author of Science Fiction, Urban Fantasy, and Paranormal Romance brings another action, adventure, and suspense-filled story to transport readers out of this world. In a world gone crazy, it is often the humans who are at fault, seeking answers to questions we are not yet ready to understand...
Lt. Commander Joshua Manson's focus on his career has taken him to many places, just not the one he has always dreamed of going into space. His sometimes controversial methods during missions have given him the reputation of being a soldier who doesn't always play by the rule book. A summons to Washington, D.C. after a challenging mission leaves him questioning if he'll have a career at all; but once there, Josh is surprised when he is offered the chance of a lifetime, to command a mission in space to investigate an unknown object. The more he learns, the more determined he is to lead it, even if it means a one way ticket.
Cassa de Rola's family has lived for centuries in the quiet valley where they farm. Her family has tried to remain untouched by the growing unrest between the intergalactic military forces fighting for control over their planet. All of that changes when an unusual object falls from the sky and Cassa finds a strange male in the container. She knows that taking him in will endanger the lives of everyone close to her, but she can't leave him defenseless.
Now, the military forces on both sides want to discover the origins of the container and its missing contents. When the fight between the Legion and the Gallant Order escalates to all-out war, a new rebel leader emerges from the stars that will change the galaxy, and Cassa's life, forever.
My Review:
Smith writes with vivid descriptions that spark your imagination and take you, well… out of this world. This novel was emotionally poignant and also wildly exciting. I love how Smith can change from one to the other, while at other times combining both together along with a healthy dose of chemistry.
I also truly enjoyed the way that the plot progresses. The quick jumps in time to get to the present were well done, giving context without rushing, lagging, or leaving the feeling that something was missing. There was lots of world building, character development, and context for the series as a whole scattered throughout the novel. I liked the intricate history of this region of the universe. This complete picture made the story infinitely more enjoyable for me.
I enjoyed getting to know the entire crew of the Gliese 581. I never felt as if anyone was a minor character, even though Josh definitely shone here. I fell for Josh from the get-go. Not only does his past tug at your heart, but his personality was just so captivating. He was strong & caring, daring yet looking out for those around him. It was a fantastic mix. He was the type of character that I instinctively wanted to follow. He also found a great counterpart in Cassa. Her strength and willingness to do what needed to get done was tempered by her emotions. I loved how Smith made her such a strong individual while also keeping her intensely feminine.
This novel has a bit of a Star Wars feel to it in that Smith has filled it with fantastic characters and lots of out of this world action. It was a brilliant start to this new series. I'd highly recommend it to others and can't wait to see what happens next!