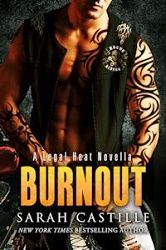 Title:
Burnout
Series:
Legal Heat #2.5
Author:
Sarah Castille
Publication Date:
April 3/16
Length:
266pgs
Genre:
contemporary romance
Shelf:
Netgalley
Rating: ★★★★★
Back Cover Blurb:
She vowed to uphold the law.
He's determined to break it.
Together, they just might bend the rules.
Rookie cop, Sophie Nichols knows the dangers of a one-night stand with a sexy stranger. Unable to resist the pull of cocky, badass biker, Ace Logan, she indulges in one steamy night of raw, unbridled passion.
At least, that was the plan…
As the new sergeant-at-arms for the Rogue Riders MC, Ace doesn't need complications in his life—especially a curvy, captivating cop with a kick-ass attitude who has the power to wreak havoc on his club. So why can't he stay away?
When Sophie's brother is kidnapped by a ruthless criminal gang, Ace might be her only hope to find him. But once he has the rookie in his arms, he'll never let her go. Now, Sophie must make a choice: break the law or break her heart?
My Review:
Castille does MCs like no other! Hot and fast, with a huge heaping of emotion. Castille presents a tightly woven plot that was exciting from the first to the very last. I found the conclusion extremely satisfying. That's not to say that what came between the covers wasn't also fantastic. The fast paced plot didn't let up for a second. At the same time, it wasn't just action. Romance and heat lit up the pages as I got caught up in all of the emotions surrounding me.
Talk about an odd mix of characters that fit together perfectly. I enjoy the fact that the main character in this novel wants the camaraderie of the MC without the 1% stigmata; the brothers and the loyalty without the underworld aspect. Yet he still has the Alpha male aura that we expect from an MC sergeant-at-arms. Countered by a heroine walking a fine line between her desires and being a good cop this cast was absolutely fantastic.
Castile has once again created an unforgettable novel that I'll never get enough of. It's a one of a kind tale that can be read both as part of the series or on its own.
Book Links