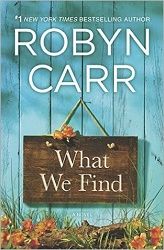 Title:
What We Find
Series:
Sullivan's Crossing #1
Author:
Robyn Carr
Publication Date:
April 5/16 by MIRA
Length:
384pgs
Genre:
contemporary romance
Shelf:
Netgalley
Rating: ★★★★
Back Cover Blurb:
Join Robyn Carr, #1 New York Times bestselling author of the Virgin River and Thunder Point series, as she explores the healing powers of rural Colorado in a brand-new story of fresh starts, budding relationships and one woman's journey to finding the happiness she's long been missing
Between the urban bustle of Denver and the high-stress environment of a career in neurosurgery, Maggie Sullivan has hit a wall. When an emergency, high-risk procedure results in the death of a teenager, Maggie finds herself in the middle of a malpractice lawsuit—and experiencing levels of anxiety she's never faced before. It's in this desperate moment that Maggie's boyfriend decides he can't handle her emotional baggage, and she's left alone, exhausted and unsure of what her future holds. One thing is certain, though: she needs to slow down before she burns out completely, and the best place she can think to do that is Sullivan's Crossing.
Named for Maggie's great-grandfather, the land and charming general store at the crossroads of the Colorado and the Continental Divide trails have been passed down through the generations and now belong to Maggie's estranged father, Sully. Though raised by her mother and stepfather after her parents divorced, Maggie has always adored Sully—despite his hands-off approach to fatherhood. When she shows up unannounced in Sullivan's Crossing, he welcomes her with opens arms, and she relishes the opportunity to rebuild their relationship.
But when Sully has a sudden heart attack, Maggie's world is rocked once again. Consumed with his care, she's relieved to find that Cal Jones, a quiet and serious-looking camper, has been taking over many of Sully's responsibilities as he recuperates. Still, Maggie is suspicious of this mysterious man's eagerness to help—until she finds out the true reason for his deliberate isolation.
Though Cal and Maggie each struggle with loss and loneliness, the time they spend together gives Maggie hope for something brighter just on the horizon…if only they can learn to find peace and healing—and perhaps love—with each other.
My Review:
Carr takes readers to Sullivan's Crossing with the same small town charm I've come to know and love her for. The picturesque setting was a fantastic counterpoint to the hustle and bustle of the high impact jobs and big city lives of the main characters. I found that the plot gets a little slow at times. That said, it is a complexly woven plot with intertwining lives of characters.
This was definitely a very character intensive story. The very different lives of the large cast of characters pulled me in in a variety of different ways. I enjoyed each of them in their own way. Maggie's story tugged at my heart and I loved how she didn't fall into self-pity, even if she had moments of it. Cal's family was an unexpected twist in this tale. I enjoyed the way that their dynamic was developed. It was so natural and real, if not something that I'd encounter in my daily life.
This novel was a compelling start to Carr's new series. I can't wait to see where it goes next.
Book Links