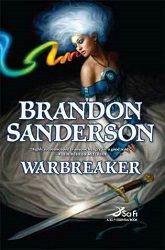 Title:
Warbreaker
Series:
Warbreaker #1
Author:
Brandon Sanderson
Publication Date:
June 9/09 by Tor
Length:
692pgs
Genre:
fantasy
Shelf:
borrowed
Rating: ★★★★★
Back Cover Blurb:
Sisters Vivenna and Siri are princesses of Idris. Susebron is the God King one must marry. Lightsong is the reluctant minor god of bravery. Vasher is an immortal still trying to undo mistakes of centuries before. Magic from individual breath from everyday objects can perform all manner of miracles and mischief.
My Review:
Court intrigue and back hallway secrets combine with action and realistic characters in a fantastic manner, creating a one of a kind experience. The intertwining and merging stories weave around each other. It kept me on my toes and engaged throughout.
Sanderson brings this world to life in a vividly colourful manner. The well-developed laws of awakening was complex yet intricately interwoven and coherent. Sanderson's complexly crafted religions add to the intricately developed world building. Seeing the various gods determine who they are and their own truth was fascinating.
I loved the number of characters that I came to know intimately throughout this novel. Were I to comment on them all we'd be here all day, so here are a few of the most memorable. Vivenna's complete blinders with respect to other cultures makes her very hard to stomach at times, but actually makes the entire story come together well, showing the chasm dividing the cultures that were at one time a single entity. Her growth and discoveries throughout helped me become more and more entrenched in this world. Vasher was a complex entity who had me captivated, trying to unravel who he is under it all. And I definitely love the sword. The childlike yet clearly focussed personality was a blast.
This was an epic fantasy of… epic proportions. I can't wait to delve further into this world.
Book Links