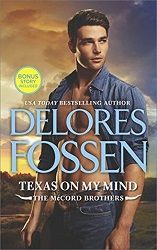 Title:
Texas On My Mind
Series:
Spring Hill #1
Author:
Delores Fossen
Publication Date:
March 1/16 by HQN
Length:
384pgs
Genre:
contemporary romance
Shelf:
Netgalley
Rating: ★★★★★
Back Cover Blurb:
The McCord Brothers are the most eligible bachelors in Spring Hill, Texas. But these cowboys are about to get wrangled by the love of some very special women—the kind who can melt hearts and lay it all on the line.
Air force Captain Riley McCord has come home on medical leave to find one heck of a welcome reception. Every unattached woman in Spring Hill, Texas, wants to nurse him back to health. That includes his childhood friend Claire Davidson—the only person who understands how damaged he really feels. In high school, she chose his best friend over him. According to Riley's rules, that should make her off-limits forever. But when Claire suggests a no-strings fling, he can't refuse.
Claire always wanted Riley—but she also craved the safety and stability he couldn't offer. So she chose another path, only to end up crazier about him than ever. She's even convinced herself that this time she won't be devastated when he leaves. Yet once Riley realizes the depth of Claire's feelings—and his own—he'll have to make the ultimate choice: return to the job he loves or stay home for the woman who's always lived in his heart.
My Review:
What a way to launch a new series! Fossen combines emotion with real life, difficult changes with the (sometimes a little hidden) love of friends and family in a manner that both warmed my heart and broke it a little. The plot was both poignant and comical, adding to enjoyment. The picturesque descriptions allowed me to experience the tale while falling in love with the characters.
From characters who are a little bit broken to relationships that hold your heart, Fossen has it all in this cast of characters. I loved how everyone was so real. No one was perfect, yet everyone was perfectly themselves. The entire cast was a blast to get to know, but the main characters were by far the best. Claire's indecision and doubt cause havoc in her personal life, creating a one of a kind story that had me laughing and crying in turns. Beneath it all, her caring heart shone, making me love her all the more. Riley's warrior attitude, combined with him coming to grips with his new reality truly created a hero to love.
As a whole, this was a fantastic novel. I easily lost myself in this story, never able to forget the fantastic manner in which Fossen painted this world.
Book Links