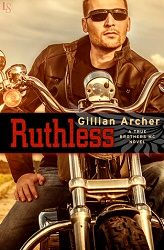 Title:
Ruthless
Series:
True Brothers MC #1
Author:
Gillian Archer
Publication Date:
April 12/16 by Loveswept
Length:
277pgs
Genre:
contemporary romance
Shelf:
review
Rating: ★★★★★
Back Cover Blurb:
Every girl needs a guardian angel—even if he wears black leather. In the first novel of her scintillating True Brothers MC series, Gillian Archer introduces readers to a sexy-as-sin biker . . . and the woman wild enough to tame him.
After dinner with the most arrogant man in the world, Jessica Miller is shocked when her blind date tries to maul her in the parking lot. Enter "Zag": the brooding, bruising alpha male who jumps off his motorcycle and teaches the jerk a lesson he won't forget. After getting one taste of a bad boy who lives on the edge, Jessica's hooked. Zag's willing to give her the ride of her life. But she needs to wrap her arms around his powerful chest and hold on—
tight
.
Zag knows firsthand that the True Brothers MC isn't for the faint of heart. He only intends to show beautiful, innocent Jessica a few cheap thrills to satisfy her curiosity. But the more he lets her in, the more Zag comes to depend on her gentle touch to help heal the wounds that he's been denying for so long. Now, a rival gang has set its sights on Jessica, and Zag must step up once again. He just hopes he can go the distance to protect the woman he loves.
My Review:
This novel is intense and hard hitting, yet still ends with an 'awww' moment. Archer combines the best of real romance with characters that don't necessarily fit the norm in a manner that left me reeling, in a good way. Archer makes danger both sexy and scary, cranking up the heat at times and the suspense at others for a package that is definitely well worth reading.
The distinction between gunrunning and drug dealing gangs and this MC was an important aspect of this novel, without detracting from the dangerous nature of the club members. Archer has created a cast of characters that are raw and real. The intensity with which they live their lives flows through the entire story. The reactive nature of these characters shows itself in a myriad of ways. Their intensity shines through in the way that they live, the way that they love, the way that they defend their own.
I fell in love with both of these main characters in very different ways. Zag's intensity and air of danger, combined with his endless caring and worry created a paradox that made me melt. Jessica's muddle-headedness made her priceless. I really enjoyed how we were given both main characters' POVs at various points in time without a huge distinction or a break in flow. Archer simply made sure that readers knew what was on both of her characters' minds.
I couldn't put it down! This is a new to me author who will definitely be going on my watch list.
Book Links